'Blindspot': The Guy From Those Mac Vs. PC Ads Guests Tonight (VIDEO)
There's new blood stirring up trouble on Blindspot, which returns tonight after a three month hiatus.
RELATED: Why Ashley Johnson Steals the Scenes on Blindspot
John Hodgman guest stars as Chief Inspector Fischer, a government agent from the office of professional responsibility. He's there to dig into what happened surrounding David's (Joe Dinicol) death, which could mean trouble for both Patterson (Ashley Johnson), who took classified files home, and Mayfair (Marianne Jean-Baptiste), who covered it up.
Check out this exclusive clip, in which Fischer goes toe-to-toe with the FBI's assistant director.
If the antagonist looks familiar, it may be because you've seen him in one of his ubiquitous "Get a Mac" commercials playing a bumbling PC computer. Hodgman also appeared as Louis Green on Bored to Death, for which Blindspot's showrunner Martin Gero was a writer.
Blindspot's midseason premiere debuts tonight at 10/9c on NBC.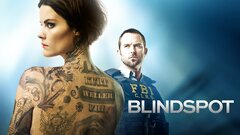 Powered by