Will Lady Mary Find Happiness Again? 'Downton Abbey's Michelle Dockery Muses on the Possibility
Editor's Note: This interview with Michelle Dockery was conducted before her fiancé, John Dineen, died on Sunday, Dec. 13 after battling cancer. The couple had been introduced by Dockery's Downton Abbey costar, Allen Leech, in 2013.
---
By Rob Moynihan and Ileane Rudolph
Blackmail, imperiled jobs, surprising returns, marital struggles, feminist triumph and a marriage or two—that's a taste of the high drama, romance and touching moments to come in Downton Abbey's sixth and final season. Gareth Neame, who executive produces with creator Julian Fellowes, promises: "The char­acters will all have a proper ending. A number of relationship issues will be resolved."
In the premiere, butler Carson (Jim Carter) and head housekeeper Mrs. Hughes (Phyllis Logan) contemplate moving forward with their wedding plans, and Bates (Brendan Coyle) and Anna (Joanne Froggatt) continue to struggle with the aftermath of Mr. Green's death. As for the ladies Crawley, Neame notes that the "possible prospects" Edith (Laura Carmichael) and Mary (Michelle Dockery) met at the end of last season will be back: land agent Bertie Pelham (Harry Hadden-Paton) and the dashing Henry Talbot (Matthew Goode), respectively.
But before Mary focuses on love, she must embrace the responsibility of running the estate. "She's forward thinking; she wants Downton to survive, but she can only do that through reinvention," Neame says. "That means embracing new ideas, like opening the house to paying visitors."
Like the changing times, Mary, too, is going through a bit of a reinvention. As the eldest Crawley daughter focuses on her work, "Romantic life is pretty quiet to start," Dockery says. "She's trying to find herself again."
Adds Neame, "At times, she's still selfish and difficult to know, but you will see her be very likable this season."
Here, Dockery shares what's to come in the final stretch and how she feels about the Emmy-winning show's swan song.
How would you describe Mary's arc this season?
It's unexpected. Without giving too much away, things are going quite smoothly for a while and then suddenly an event happens that really throws the cat among the pigeons. It's a big game changer for her and shows a whole new side to her that I didn't even imagine Julian would find. Just when you think he's written enough for the character, he finds something else!
What's in store for Mary and Henry Talbot, the charming man she met in last season's finale? There's definitely chemistry there.
It's a dance. It's never easy with Mary. It's a bit of to and fro. She's trying to figure out what she wants. She didn't quite deal enough with her grief over [her late husband] Matthew; several years on, she's still trying to figure out what makes her happy. The crux of it is that she's not quite content in herself. Maybe she begins to realize that after a while.
Is she keeping busy managing the Downton estate?
She is, and so she's very much in business mode at the beginning of the season. I like that Mary and Edith's lives kind of run parallel to each other. Edith now has her office in London, and she's living a very independent life as a working woman and also has her romantic adventures. And Mary's doing the same at Downton.
Does that mean the chilly relationship between the sisters will improve?
That has been the most consistent storyline from the beginning to the end. Only now am I realizing that that relationship is one of the most important and the most enjoyable on the show. Laura and I love playing together. We get a bit bored when Mary and Edith are nice to each other. [Laughs] My sisters and I are very close, but I hear stories about other siblings and how vicious they can be with one another. Some siblings aren't always friends.
What did you learn from playing Mary?
That change is inevitable. She's an example of that. Mary always tries to control things. There's a great scene this year with Mrs. Hughes and Carson where she's trying to control a situation and she can't. It's something the character had to learn, and I think that's true of life. I like that my career is unpredictable and always changing. There's certainly a big change coming up for me after six years on Downton. I'm very much looking forward to what's ahead.
What do you hope for Mary's future?
Julian is too clever for happily ever after. Contentment is what I would like for her and happiness within herself. Half the battle with Mary is that she's never been quite content with who she is and accepting of herself and her flaws. In Season 6, she's finally getting there.
How are you feeling at the end of this six-year journey?
It's very bittersweet. As much as I'm sad to let it go, it feels like the right time to end. I'm not sure how much longer we could have gone on because then you move into a whole other era. Julian has brilliantly brought everything together. Some things are wrapped up, but some things aren't. It's not like it's all neatly tied in a bow, but he does it so well.
Downton Abbey, Season premiere, Sunday, Jan. 3, 9/8c, PBS (check local listings at pbs.org)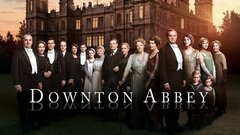 Powered by