'I Am the Night' Sneak Peek: Is Corinna the Key to Fauna Finding Her Mother? (VIDEO)
In I Am the Night, viewers follow Fauna Hodel (India Eisley) deeper into the mystery surrounding her origins, and in the February 18 episode "Matador," it looks like we'll be discovering even more.
Each passing week Fauna gets a little closer to uncovering the truth about her parentage, but obstacles continue to fall in her path — one being her grandfather George Hodel's ex-wife, Corinna (Connie Nielsen). The wealthy and overtly "cultured" Los Angeleno constantly asserts her "superiority" over Fauna.
In an exclusive sneak peek clip for TV Insider, Fauna and Corinna continue to debate her famous "Happening," a presumed piece of performance art. Corinna says "avante-garde needs courage," but Fauna isn't interested in the pomp and circumstance. Corinna then complains about her inability to appreciate real art.
While the socialite blabbers on at the vanity mirror, Fauna takes the opportunity to sneak a journal out of her bag — another step close to finding her mother, perhaps. Will Fauna find the answers she's seeking?
See Also
Learn about the dark-side of Hollywood's golden days.
Check out the clip below and tune in February 18 to find out.
I Am the Night, Mondays, 9/8c, TNT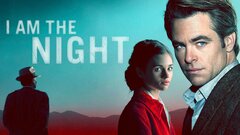 Powered by