What's Worth Watching: 'Blindspot', 'The Voice', 'Gotham', 'Better Call Saul' and more for Monday, February 29
Blindspot (10/9c, NBC): Back after a three-month hiatus, the enjoyable if preposterously high-stakes action thriller finds Jane Doe (Jaimie Alexander) wrestling with new demons, now that she's aware—thanks to the mysterious Oliver (Francois Arnaud)—that she's the mastermind of her own amnesia, not to mention elaborate body art. There's not much time to sweat the details, though, as she and Weller (Sullivan Stapleton) track a vanished plane to a horrific terrorist plot in the Black Sea. Back at HQ, a still grieving Patterson (Ashley Johnson) is grilled by the unctuous Inspector Fischer (John Hodgman) of the Office of Professional Responsibility over the events that led to her boyfriend's death. No turning a blind eye on this embattled agency.
The Voice (8/7c, NBC): Before Blindspot, how about some blind auditions—always the best part of any season of The Voice. A new round begins with Adam Levine, Christina Aguilera, Pharrell Williams and Blake Shelton in the revolving hot seats, spinning around when they hear a new sound they like, often battling to get the latest discovery on their respective teams.
Gotham (8/7c, Fox): Just when you thought this Batman prequel couldn't get any darker … the season is now being billed as "Wrath of the Villains," and the first episode back from a three-month break introduces a few doozies: cryogenics engineer Victor Fries (Nathan Darrow), aka Mr. Freeze, and B.D. Wong as Hugo Strange, overseer of Arkham Asylum, where Penguin (Robin Lord Taylor) will take up residence after taking the fall for Galavan's murder.
Jane the Virgin (9/8, The CW): Can't wait to hear my favorite narrator comment on all of the back-and-forth relationships on this delightful rom-com, with Jane (Gina Rodriguez) and Michael (Brett Dier) reunited, which upsets Rafael (Justin Baldoni) so much that he's ignoring the pregnant Petra (Yael Grobglas), while Xo (Andrea Navedo) and Rogelio (Jaime Camil) have split over their own baby issues. Got all that?
Better Call Saul (10/9c, AMC): The future Saul—call him Jimmy McGill (Bob Odenkirk)—is the one doing the calling, or selling, in a fun episode that finds Jimmy testing the limits of his new Santa Fe's firm tolerance of his glad-handing methods of "client outreach." When he laments, "Whatever happened to showmanship?" you want to applaud. On the darker side of the New Mexico divide, Mike (Jonathan Banks) gets drawn even deeper into personal and criminal intrigues. This is one of those shows where just as you get back into its peculiar rhythms, it's over for another week. Can't wait to see where this season is going.
Inside Monday TV: Try not to be confused by this, Super-fans. Laura Vandervoort, who once played Kara (aka Supergirl) on Smallville, guests on CBS's Supergirl (8/7c) as Indigo, a nemesis of the new Kara (Melissa Benoist) who can transport herself via the Internet. This new danger sends our hero to her cousin Superman's Fortress of Solitude for guidance. … Smithsonian Channel plays ball, profiling four iconic Major League Legends (8/7c) in a new series. First batter up: Hank Aaron. … HBO's documentary unit sings the praises of Mavis! (9/8c) in a rousing biography of gospel-soul great Mavis Staples. … Filmed over five years, Wilhemina's War (10/9c, PBS, check local listings at pbs.org) is an Independent Lens documentary following the struggles of South Carolina native Wilhemina Dixon to care for five members of her family dealing with HIV/AIDS amid rural poverty.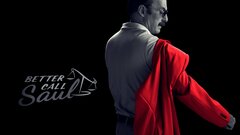 Powered by