Everything You Didn't Know About 'Unsolved Mysteries'
Cue the creepy theme song: Unsolved Mysteries is headed back to TV. A new version of the docuseries will soon stream on Netflix, with Stranger Things executive producer Shawn Levy producing and original EP Terry Dunn Meurer running the show.
"The 12-part show will use re-enactments in a documentary format to profile real-life mysteries and unsolved crimes, lost love, cases involving missing persons and unexplained paranormal events," Deadline reports, adding that each episode will focus on one mystery.
In honor of the show's comeback, we're rounding up trivia tidbits about the original Unsolved Mysteries, some or all of which you may not have known. Keep reading, true crime buffs!
It has aired on four networks
NBC aired Unsolved Mysteries for 10 years before canceling it in 1997, at which point CBS picked it up and aired two seasons before giving it the boot in 1999. Lifetime, which had been airing reruns of the show for years, took up the baton and aired two more Unsolved Mysteries seasons between 2001 and 2002. Finally, Spike TV gave the show a 14th season between 2008 and 2010.
Robert Stack wasn't the original host
Perry Mason and Ironside star Raymond Burr hosted the first special of what would become Unsolved Mysteries on NBC in 1987, and A Streetcar Named Desire star Karl Malden presented two others that same year. Stack, a veteran of The Untouchables, took over as host at the end of the year and continued hosting until 2002. He died the following year.
It had a short-lived spinoff
For a brief moment in 1992, Stack hosted an NBC spin-off titled Final Appeal: From the Files of Unsolved Mysteries, described as "a reality-based series [which] examines real-life cases of potential injustice involving convicted persons who, according to impartial observers, may be innocent."
A-listers appeared on the show before they were famous
In one of his first onscreen roles, Matthew McConaughey played a murder victim on Unsolved Mysteries. Other alums include Hawaii Five-0's Daniel Dae Kim, Star Trek's Brent Spiner, Curb Your Enthusiasm's Cheryl Hines, Arrow's David Ramsey, and Saturday Night Live's Taran Killam. Additionally, future Sideways Oscar nominee Virginia Madsen co-hosted the show's 11th season.
The revival was more of a remix
When Unsolved Mysteries returned to air on Spike TV in 2008, the "new" episodes featured re-edited versions of prior reenactments, along with updates on past cases, all hosted by Law & Order alum Dennis Farina.
There's an official soundtrack available for purchase
Terror Vision Records released Unsolved Mysteries: Ghosts/Hauntings/The Unexplained on color vinyl as a triple LP set in 2018. A single LP version of that release is still available.
The mysteries have continued on YouTube
Though Unsolved Mysteries left the airwaves in 2010, the show's official YouTube page has continued to post user-submitted cases, as well as updates on past segments.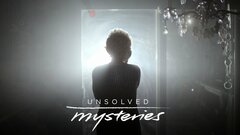 Powered by