Matt LeBlanc Says 'Man With a Plan' Season 3 Focuses on 'Issues That Hit Home'
Chip and Joanna Gaines, watch your backs! On Season 3 of the sitcom Man With a Plan, Pittsburgh contractor Adam Burns — the well-meaning but under-enlightened suburban dad played by Matt LeBlanc — and his wife, Andi (Liza Snyder), have become house-flippers.
Naturally, their attempts to relate as colleagues will lead to a power struggle faster than you can say "Peruvian-tile backsplash." (Andi is in favor of the pricey ceramics; Adam is opposed.) "They'll be dealing with questions of who's actually in charge," LeBlanc says. "Viewers will relate."
See Also
Don't miss Nina Dobrev's return to TV in 'Fam.'
This ripped-from-the-family-sofa scenario is the type of plotline you can expect more of as Man With a Plan continues. "Going into our third season, we've established the characters and tried out different things, so now we can gravitate toward what really works for us," says LeBlanc.
"We're striving to do stories based in truth and touch on issues that hit home." That includes Adam's efforts to connect with Andi, the couple's three children and his proudly nonprogressive father, Joe (Stacy Keach). Notes LeBlanc, "Adam isn't old-school enough for his dad or modern enough for his wife. And the kids? Who knows what they're talking about!"
While Adam is bound to experience the occasional "Aha!" moment, there's no need to fear that he — or the series — will turn highbrow. As the first couple of episodes of the season demonstrate, he's still a dude who eats two breakfasts and maintains that the so-called "man pool" has no deep end.
"Adam is wired very simply," LeBlanc says. "This is a slice-of-life show that offers a half hour of escapism, and I think it's funny. Maybe I'm jaded from being in the business too long, but so many things these days that are supposed to be funny don't make me laugh. This makes me laugh."
Man With a Plan, Mondays, 8:30/7:30c, CBS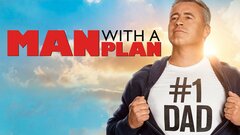 Powered by