What 'Hell's Kitchen' Host Gordon Ramsay Eats off Camera
He's a hothead on Fox's Hell's Kitchen, but away from the pots and pans, Gordon Ramsay is pretty chill when it comes to cuisine.
"Right now we're shooting, so it's tough to cook at night when you've been tasting all day," he says. "On those few days I get out early, I love trying out the newest restaurants in Los Angeles." When he's home in the U.K., Ramsay is happy to share the stove with another master chef: his teenage daughter Tilly, who hosts her own cooking show on CBBC, the children's BBC. "She loves to cook and try out new recipes," he says. "Sundays we do big family dinners and everyone is involved."
And when company comes over? "Something authentic [and] rich with a sauce that's been doused with lots of red wine to go with a fine meat, like a braised short rib."
VIDEO: See Coolio in the Kitchen on Bravo's Recipe for Deception
---
Gordon's Almond, Banana, Cranberry Porridge
Yield: 4 servings
Ingredients
2 large bananas
4 cups almond milk
1 vanilla pod, split and scraped
2 tablespoons honey
1 teaspoon cinnamon, ground
1 pinch kosher salt
2 cups rolled oats
4 ounces dried cranberries
2 ounces whole blanched almonds
Directions
Place bananas in oven overnight on a pilot light. Remove, peel and smash bananas in a saucepan. Whisk together almond milk, vanilla, honey, cinnamon and salt. Pour over bananas and bring to a boil over high heat. Stir in oats and reduce heat to medium low. Simmer, for 5-7 minutes, until oats are tender and desired consistency is reached. Fold in cranberries and almonds and top with more cinnamon and milk, as desired.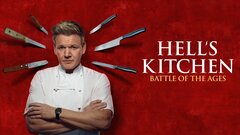 Powered by