Andrew Lincoln on Rick and Daryl's Excellent 'Walking Dead' Adventure
Spoiler alert! Stop reading if you haven't seen the latest episode of The Walking Dead!
AMC's The Walking Dead took a break from brutality on Sunday's episode as Rick Grimes (Andrew Lincoln) and Daryl Dixon (Norman Reedus) embarked on an action-packed—and at times hilarious—road trip.
A few weeks have passed since the residents of Alexandria successfully destroyed the zombie herd that had overrun their community, and as the rebuilding process continued within the Safe Zone, Rick and Daryl ventured outside the walls on an all-important supply run. The two survivors found a truck packed full of food and other essentials, but it was stolen by a mysterious man calling himself Jesus (Tom Payne). In the ensuing battle, the supply truck sunk to the bottom of a lake and Jesus was knocked out cold before Rick convinced Daryl to bring him back to Alexandria.
Once he arrived home, Rick's day took yet another surprising turn when he finally had sex with Michonne (Danai Gurira), much to the delight of "Richonne" shippers everywhere. But their romantic evening turned dangerous when Jesus surprised both Rick and Michonne in the bedroom—and in the buff—telling Rick that they needed to talk.
We spoke to Lincoln about reuniting with Reedus for their excellent adventure, filming his nude scene with Gurira, and why his mother was forced to sign a non-disclosure agreement when she visited the Atlanta set.
PHOTOS: Andrew Lincoln and Norman Reedus Get Really Goofy
After spending most of Season 6 apart, what was it like to get back to working with Norman on this particular episode?
Funny enough, I mentioned something like, "Can we do a Butch Cassidy and the Sundance Kid episode?" [Executive producer] Greg Nicotero picked up on it, and then we spoke to [showrunner] Scott [Gimple] and he said, "You know what? There may be an opportunity, we've just got to find some way of doing this." And then, Angela Kang came through and wrote such a great episode, and she always does. But this particular episode, getting these two characters back in the same space, it's also such a different tonal change to have this road trip with these people relaxed for the first time. Honestly, working with Norman has always been a dream, but to play and have fun with him as these characters was just something that we'd never done before. There was just a different energy on set. It was so much fun and playful. I think the fans deserve a bit of a break. It's an endurance test watching the show sometimes. I think after the intensity of the last episode, and for us as well, it was just so great to hang with these characters. It was such a gas.
What other songs are on the Rick Grimes Road Trip mix CD?
[Laughs] I'm putting it out next Christmas! "Music to Kill Zombies By." Honestly, you should have seen the outtakes on that. It was hilarious. There was even one where I slap Norman's hand. There was so much ad-libbing, it was so much fun.
By the end of the episode, fans got their wish when Rick and Michonne finally hooked up. How did you feel about this development?
Well, my mom was thrilled. She's been campaigning for about three years for that to happen. I did give her a little spoiler. She did come out to visit the set in Atlanta and I said, "I think you're going to be happy in the back eight." And she went, "No!" And I said, "Don't you tell a soul!" She had to sign a non-disclosure, my mother. But it was amazing. I was a lot busier in the episode prior, and Danai had a couple of days off and she said, "Have you read it yet?" And she got kind of weird around me. In the makeup trailer, she was kind of giggly and quiet and wouldn't make eye contact with me and I would ask, "What is wrong with you?" She said, "Have you read it yet?" I said, "I've started, but I'm busy, I'm trying to save Alexandria. What do you want from me?"And then she was on set and I finished and she said, "Read it now!" So I read it and I screamed and I ran into her trailer like, "Why didn't you tell me?! This is insane!" But I was thrilled. I was absolutely stunned by it.
But do you fear it's too soon after the loss of Jessie (Alexandra Breckenridge)?
The thing that I hope people get is that there was a time jump, and if you understand the time jump and the fact that it was such a surprising day and strange episode, Rick gets surprised. Jessie was instrumental in opening Rick up. Without her, sadly, he would never have been able to access that or even be in a position to fathom it. So we wanted it to be natural and grown-up. We wanted the scene to start in one place and surprise both of them and then they look at each other and go, "Of course!"
So is this the first time they've had sex?
We made the decision that this was the first time.
At the end of the episode, Jesus catches them both in the nude. What was filming that sequence like?
In the original script, it said Michonne covers herself and Rick looks a bit confused or something like that. And Danai said, "She wouldn't cover herself!" And I said, "Yeah, and we'd have our guns there, and we'd be buck naked!" My dear friend and lawyer in Hollywood was hilarious, sending emails about "no more than three inches of intergluteal cleft." [Laughs] And these emails were bouncing around and everybody was panicking, and I can't stop saying "intergluteal cleft" now. But we campaigned and we got our wish. Danai is brilliant, fun and hilarious, and I couldn't wish for a better leading lady. It's always incredibly exposing and revealing when you have to do these things, but everybody was so respectful and very cool. When I was back in England, I did a show called Teachers where I had to run naked all day in a dream sequence. And I came around the corner after doing my third take and all of the crew were naked, which is very moving. But I didn't get the same commitment in Atlanta. I'm hoping in Season 7.
RELATED: Showrunner Scott Gimple Talks the Season 6 Time Jump
Going forward, what trouble is Jesus going to cause Rick and the rest of the group?
You'll realize that there is a change in Rick. Rick has the whole argument with Daryl about bringing people back in. There is a seismic change since the battle for Alexandria, and he is so much about being a community that needs contact with other communities to survive and to grow. He has big dreams about Alexandria and rebuilding. So he brought Jesus back in, but Rick doesn't know much about him yet. I think Rick's going to treat him with great caution, but with a great deal of hope as well because there could be an opportunity for Jesus to hurt or damage them. There are reasons why Rick should trust him to a point. This back eight is quicker than we've ever done in this show, and a lot of the questions you have are answered immediately, certainly in the next one, two, maybe three episodes. But then, as is the way with our show, it gets back to the bloodshed.
[jwplatform CRXoWebF]
The Walking Dead airs Sundays at 9/8c on AMC.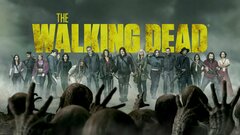 Powered by