Roush Review: Netflix's 'Love' Hurts, But in a Good Way
Heads-up to Judd Apatow devotees who've been there since Freaks and Geeks: If you ever wondered what would happen if one of those lovably awkward dweebs grew up and hooked up with a freaky rebel, Love is the show for you. "Love" may be too strong a word for this more-bitter-than-sweet raunchy rom-com, but who'd watch a show called Like?
This is perfect for binge-watching, because it takes a while for this opposite-attracts relationship to move forward (then backward, then … you know the drill), as Love charts the unlikely collision course of two lost L.A. train wrecks, nebbishy Gus (cocreator Paul Rust) and brash Mickey (Community's splendidly mercurial Gillian Jacobs), through a series of badly-timed texts and hapless dates.
https://www.youtube.com/watch?v=Ym3LoSj9Xj8
Gus is a self-confessed "repressed hostile nerd" accused by an ex of being "fake nice"; not-quite-recovering addict Mickey can't even pretend civility. (She initially sees Gus as "a 40-year-old 12-year-old.") She's as brazen as he is not. He has no game, and she's sick of the game. Guess what? They're an imperfectly perfect couple, though also their own worst enemies. You may find yourself wanting to strangle them when you're not cheering for them.
Trapped in awful jobs—he's an on-set tutor for the brat child star (Apatow's daughter Iris) of a tacky Charmed-like witch series he hopes to write for, while she toils at a satellite-radio call-in show for the lovelorn—these lonely, snarky, yearning misfits might even be made for each other if they could get over their own insecurities.
More Roush Reviews: See What Matt Thinks About Other Shows
Love squirms to its heart's content, and if you stick with it through all 10 episodes, you'll probably be glad that Netflix committed to a second season before even putting the first into play. The road to whatever kind of love story Love is telling is bumpier than usual, and there's no reason to rush it.
Love premieres Friday, Feb. 19, on Netflix
---
Questions? Ask Critic Matt Roush!
TV critic (and occasional TV therapist) Matt Roush answers viewer questions and concerns in his Ask Matt column each week. Wondering about plots, characters and twists on your fave shows? Submit your query to Matt via the form below: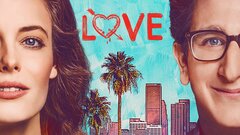 Love
where to stream
Powered by