'Arrow's Charlotte Ross on Planning the Olicity Engagement Party (and Hitting 'The Jackpot' in Love)
For all of the Green Arrow's efforts, the one crime he can't stop is how often Charlotte Ross steals our hearts. As Felicity's (Emily Bett Rickards) sweetly clueless mother Donna, Ross brings a lighthearted sparkle to Star City's often-grim goings-ons. And now that her former cocktail waitress has landed in a romance with Det. Lance (Paul Blackthorne), Donna is ready to spread the love tonight by hosting what sounds like a hilarious party in honor of her daughter's engagement to Oliver (Stephen Amell).
So what is going on? Donna is in such a deep romantic entanglement right now!
[Laughs] I know! What's going on?! Donna's had some bad luck with men, to say the least. I think the trick when you've had some bad break-ups and a lot of pain is to not become hard and jaded, give up on love and that kind of thing. Men have really let her down, have not been honest and have really kind of screwed her over. So I'm really grateful they've done this whole thing with Quentin. Paul Blackthorne and I are having a great time.
What do you think drew Donna to him?
I think the fact that he works in law enforcement and doing the right thing is really important to him. Being honest and trustworthy are some amazing core values that he has and, I don't know, how many men she has met like that! I think she's really excited and really grateful. She's really hoping that he feels the same way and wants to go the distance. I think she thinks she hit the jackpot.
Should we expect her or Lance to cross paths with his ex-husband of hers, Noah, who showed up as The Calculator?
Well, you know, I don't know if Tom Amandes is coming back. I hope he is. Noah really left her and Felicity high and dry. I don't know to what extent how bad it was and what went down, but I would like to think that it was not pretty at all. As you saw from the scene last week, Donna was serious about wanting her daughter nowhere near him. He is not a good guy and what he has shown is that he is a really, really bad guy, and I think there are so many rich story lines to be found there. I'm really hoping they bring him back.
This week, Donna is in her element, throwing a party for Oliver and Felicity.
Oh my gosh, an engagement party! I think she's been planning it since the day she found out she was pregnant with Felicity. This is big time for her, you know what I mean? I'm sure she's planned the invitations….
How overblown is this thing?
Let's just say, if you were to get an invitation from Donna for Felicity's engagement party, it would definitely be something to remember.
Yeah, I'm imagining a lot of glitter.
[Laughs] That's a good, good guess. I like that. Glitter that you can't get off your face and body! And I'm sure some [guests] might not like that, but it has to be a statement. There's got to be a lot of pink. There's got to be a lot of feathers. There's going to be games. There's going to be chocolate fountains and fountains everywhere.
Oh my god.
I think she's almost stressed in a bad way because it's so much to take on, but it's everything she lives for. It's very, very exciting.
And how is the happy couple with this? Oliver's not exactly the "party" guy.
Exactly! [Laughs] One of the many reasons I love Donna—there are so many reasons—but one of them is, sometimes I just have to try to keep a straight face when I see the reactions of Stephen and Emily when Donna is running around doing her thing. We shot a scene that airs [tonight] that I kept doing take after take, and their reactions are funnier than anything else! Just their natural reactions to what they see in front of them.
I love that Oliver always seems to be just so charmed by Donna.
[Laughs] Yeah, I don't know if Oliver has seen a lot of people like Donna. I would like to think that one of the beautiful things about Donna is she comes from a place of love and true joy and happiness and wanting the best for him and Felicity. So even if it is over-the-top or annoying or grating or bizarre it's hard not to smirk at and like it, because it comes from a well-meaning place, if you know what I mean.
She really is all heart.
Yeah, exactly.
And love tends to be a little contagious, so what does this bring out in Lance?
Lance has a lot on his plate right now because as you know, everyone has to deal with Damien Darhk [Neal McDonagh] in their own way. And he has these secrets he has to deal with in terms of his history. Donna goes into this episode knowing nothing about that and it sets up some decisions that he needs to make that could put our relationship in jeopardy. I love that the stakes are so high for Donna in the fact that she feels like this man can do no wrong, but remember…nobody's perfect.
And secrets always come out in Star City. Always. [Laughs]
They do? Okay. Oh gosh!
Good thing she's got Felicity! And we so love the mother-daughter stuff between you and Emily Bett Rickards.
I love it too because… I think they were estranged for a bit, but now they really want to be around each other. They rely on each other in a real strong friendship way and how that's blossomed, I attribute it all to Miss Emily, who I love more than anything. We have this natural chemistry and I just love her to death. We just laugh and fall into sync and sometime we'll have role reversal where she's giving me advice and I'll really need her help—that's on the show and in real life! It's really interesting how it works and I have to give it all to Em.
The producers have always stressed that, at the end of the day after all the fight sequences, effects, and all that, Arrow is about these relationships.
Yeah, you have to really care about someone when…they might be in the grave. [Laughs]
Wait a minute…
I have no idea! I can tell you that when I'm driving to and from set, even the transportation crew are like, 'Do you think it's this person? Do you think it's this person?' I've been on a lot of shows where there are cliffhangers, and I've never seen this much hubbub on set. I have no idea. Everybody is playing it cool, but everybody is freaking out.
Arrow airs tonight at 8/7c on The CW.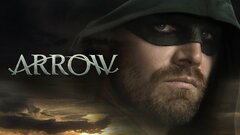 Arrow
where to stream
Powered by