Amy Grant Reveals the Best Part About Working on Her Hallmark Christmas Special
Amy Grant is leading by example this holiday season.
In her one-hour Hallmark Channel special, Amy Grant's Tennessee Christmas, she's joined by husband and Grammy-winning musician Vince Gill, country music star Kellie Pickler, and Grammy-winning singer Michael W. Smith for an "evening filled with rich performances of holiday favorites that are sure to put viewers in a festive mood."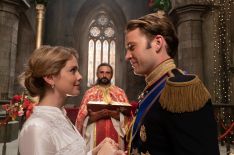 See Also
Including those from Lifetime, Freeform, Hallmark, and everything in-between.
Some of the musical choices include solos of "To Be Together," "Winter Wonderland," and "Tennessee Christmas." In addition, Grant also sprinkles in some stories about her family and their traditions and highlights charities that are close to her heart, such as Song for Veterans, Scott Hamilton Cares Foundation, and Barefoot Republic, a camp for kids founded by Grant.
TV Insider spoke to Grant about her Hallmark special and why the holidays are close to her heart:
What was the best part about having a Hallmark Christmas special?
Amy Grant: Helping to tell all of these amazing stories of how people use their time and energy to give back. My booking agent said [to me], after watching the special, he felt energized again. He said, 'Music is the quickest way to connect [to other people].' He was just so moved by how the show was put together. I want people to see this show and be inspired by their own lives.
My friends tell me The Hallmark Channel is their go-to channel because it tells stories of people working through their differences, seeing the good in each other, and there's conflict but it's resolved.
Were you a fan of other artists music before working with them?
Yes, I've toured so many years with Michael Smith. I met Michael in college, so we have so many years together. And obviously, I'm married to Vince. With Kellie, she's a new friend who is managed by the same company who manages Vince. She is honestly a lovable nut! She's zany and quirky.
Do you and your husband compete over best Christmas songs?
Oh my gosh. There's not competing with him. He's freakishly gifted.
See Also
The country superstar gets the holiday blues when she visits Elvis' home (and makes her acting debut!).
You also talk in the special about traditions you have… what is one that's special to you?
Our small family tradition is our Christmas morning photo. It's the come as you are photo. I've done that since my daughter was on a bottle. Then with my whole family, we do Dirty Santa which is always fun.
What do you hope fans take away after the special?
I hope viewers feel like they have the ability to use what they already have as a gift and help others. I hope people think if they're feeling lonely or disconnected, that they reach out.
Amy Grant's Tennessee Christmas, Premieres, Monday, December 3, 6/5c, Hallmark