'Law & Order: SVU's Fall Finale Sparks Fan Backlash on Social Media
[This post includes spoilers from the fall finale of Law & Order: SVU, "Alta Kockers."]
Law & Order: SVU's fall finale took viewers on a twisty-turny ride with an ending no one expected.
The audience is introduced to a young woman, who is reading from her graphic and provoking memoir, titled Blue Barracuda, about time spent as a child prostitute. Her name is Bobbi O'Rourke, and she is later bludgeoned to death with a brick in the alley behind the building.
But, of course, there are many layers to this episode and crime. It turns out that Bobbi is actually a transgender sex worker named Tammy, who was hired by the book's publisher to pretend to be author. The real Bobbi doesn't come outside.
See Also
This season includes an Emmy, Tony, and Golden Globe winner.
The murder is solved pretty quickly. Tammy was killed by a former client of hers who was shocked to find out that she was a trans woman. He wanted to prove his "wasn't gay."
This leads Lieutenant Olivia Benson (Mariska Hargitay) and co. to discover an even more bizarre twist — Bobbi was never a real person. It was a pseudonym used by a reclusive old man (played by Wallace Shawn), who wrote the book about his own abusive childhood experiences. He lives in a big mansion with his older — and equally reclusive — brother.
The storyline itself didn't confused SVU fans, but the way the show addressed Bobbi/Tammy was concerning.
Benson first refers to Bobbi/Tammy as, "she's not a she — physically, anyway," and suggests the murder was a hate crime since the victim was transgender. The detectives continued to refer as Bobbi/Tammy as "he" even though all evidence pointed to the fact at Bobbi/Tammy presented as female.
When Carisi interviews the publisher, who hired Tammy, he dismissively says he paid someone named, "Taffy, Teddy, Tammy, whatever the hell he was calling himself that week," again making assumptions about what she identified as.
See Also
We're hoping for the will-they-or-wont-they partners to finally do the damn thing.
Fans called out the producers, writers, and cast for not being more aware of their remarks on the crime show.
Thank you for listening, truly. But I hope you see that @Noochone's explanation of "misrepresentation" completely missed the point people are making. Olivia Benson said something incredibly offensive, without being called out. Other fans refuse to see how offensive it is because

— Larkin21 🏳️‍🌈 (@Larkin2112) November 29, 2018
Wow. Law & Order SVU just referred to a trans woman as 'she's not a she, physically, anyway.' Fuck that noise.

— Matt Klopot (@mattklopot) November 30, 2018
I am a trans mother.The comment ,the missgendering hurt. I appreciate the promise to do better. SVU has changed with the years. This was a misstep . I believe you will do better. I hope you will. In all these years theshow has educated and helped me evolve.I hope that continues.

— Dianna Anderton (@da34amadeo) November 30, 2018
I'm not trans either. But I'm an LGBTQ ally and they have become so visible that if they're fans of SVU, they deserve to not be written as murder vics, and trans women stereotyped as a men wearing makeup and dresses. Service from last season was a more positive trans episode.

— Annie👑 (@annieburrkkee) November 30, 2018
I'm still really upset that a trans sex worker was used as a prop, misgendered a bunch, and then murdered. Then just kinda whatevered by everyone but Sonny? #SVU

— Meghan (@BeatIsSoFunny) November 30, 2018
Executive producer Michael Chernuchin apologized on social media. He wrote, "I am so sorry that the promo for tonight's episode caused hurt and confusion," he tweeted earlier today. "It was misrepresentative of the story."
I am so sorry that the promo for tonight's episode caused hurt and confusion. It was misrepresentative of the story. I hope the quote below offers some clarification. Nevertheless, we apologize for any hurt caused by Benson's line. Your voices are heard and matter to us. pic.twitter.com/yFesDKm6ao

— Michael Chernuchin (@Noochone) November 29, 2018
Hargitay retweeted him and added her own apology. "Thank you for using your voices. You matter more than you know. We will do better."
Thank you for using your voices. You matter more than you know. We will do better. https://t.co/9evRMZsNkW

— Mariska Hargitay (@Mariska) November 29, 2018
Law & Order: SVU, Returns, Thursday, January 10, 10/9c, NBC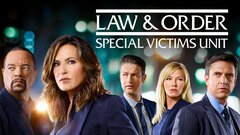 Powered by