Cry Alert! It's 'Amanda to the Rescue' for Puerto Rico's Abandoned Dogs (VIDEO)
The world is a messed-up place, and a lot of the time it seems like things get worse faster than they get better. Then you stumble upon Amanda to the Rescue, and hope licks your face like a happy puppy.
That's because animal-rescue champion and series star Amanda Giese is a g.d. inspiration when it comes to advocating for our four- (and in some cases less) legged friends out there who need homes, healthcare and other basic essentials.
In this week's episode, "Mission to Puerto Rico," Giese and her crew of Samaritans head to Puerto Rico to assist the Second Chances Animal Rescue in the wake of Hurricane Maria's devastation. Stumbling upon an area overrun with abandoned, emaciated and feral dogs, the team gets busy breaking out the kibble. And if this display of caring by volunteers willing to show these cast-aside canines the kind of love that literally has the power to keep them alive doesn't touch your heart, then maybe you're the feral one.
Check out an exclusive clip here:
Now go give your pet a treat!
Amanda to the Rescue, Sundays, 9/8c, Animal Planet. "Mission to Puerto Rico" episode airs Dec. 2.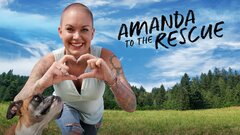 Powered by