Meet the Stars of Animal Planet's 'Amanda to the Rescue'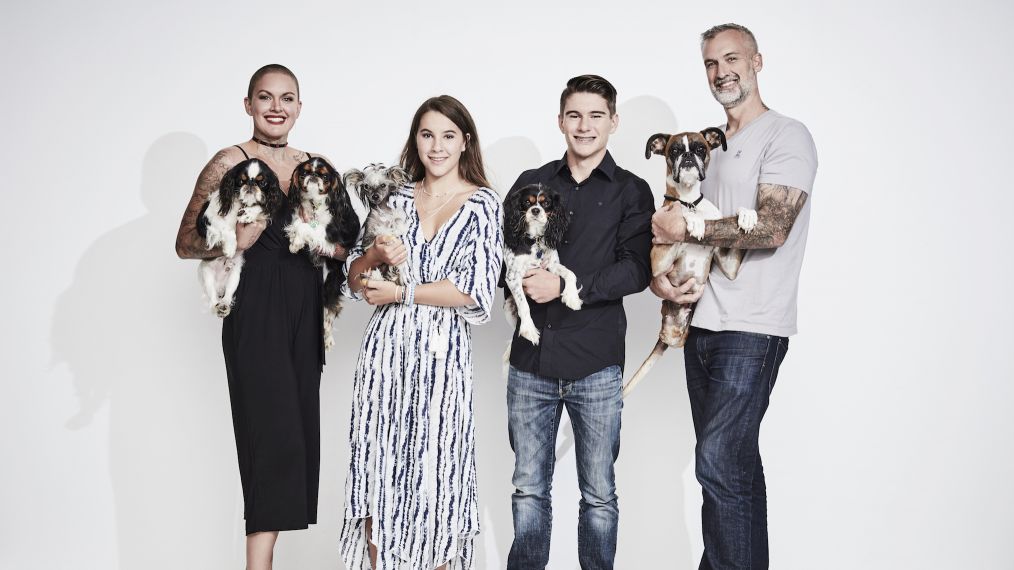 Not all superheroes wear capes; some, like animal rescuer Amanda Giese, sport shaved heads. Through her animal nonprofit Panda Paws Rescue, Amanda and her family rescue, rehabilitate and re-home medically fragile animals.
"I call them our unicorn cases," she explains, "the one-of-a-kind cases that we really have never seen in the veterinary world." In Animal Planet's uplifting docuseries Amanda to the Rescue, Giese is joined by her compassionate kids — 14-year-old Jade, and 16-year-old Beast — her partner Gary, and their animal pack that includes a trio of Cavalier King Charles spaniels and a two-legged boxer named Duncan Lou Who.
They open their hearts and their home to animals that often have no options left. "We want to be a fighting advocate for the ultimate underdog," she says, "the dog that's often overlooked, that just needs a little extra TLC."
Geise has been rescuing animals since elementary school. A little over a decade ago, in the midst of a career in veterinary medicine, she decided to take her passion for rescuing animals full-time. And her focus is on animals that others might see as a lost cause. "We specialize in major medical special needs in hospice animals — predominantly K9s — but occasionally we'll take on other species of animals. It's an in-home, family-run rescue, meaning the animals are raised, taken care of post-operatively, nursed back to health in our home, with our family, among our pack."
For Geise's children, Jade and Beast, life amid animals is their definition of normal. "It's what I've grown up with, so it's just part of my everyday life, says 14-year-old Jade, who dreams of a career in either veterinary science or surgery and who wants to follow her mom's footsteps as an animal rescuer. And despite viewing himself as a regular kid, 16-year-old Beast knows his life is extraordinary. "It's a little bit different," he admits, "when you have your friends come over and they are more interested in hanging out with the animals than they are in wanting to do something else."
Geise says that when she looks at an animal, she doesn't see its problems, she sees its potential. "Challenges typically are temporary—for both humans and animals," she says. "What we can fix, we fix. What we can't fix, we do palliative care for. If an animal is in pain, we get them so that they're not. At the end of the day, we look at the animal's quality of life. If they have a great quality of life, that's all I need to know, and I'm going to find him a great home that loves him and respects him just as he is."
Amanda's partner Gary says that what Amanda is going is special, but not impossible for others to emulate. "I think Amanda has established herself as a front-runner in the major medical special needs world. From my perspective, what I really am excited about the show is letting so many more people understand that this is possible. Duncan is possible, Groot is possible. You can have differently-abled dogs or a dog who has a major medical issue, who can be saved. And who can be a great pet.
"I do this because it truly is my passion, it's what I was born to do," says Geise. And she hopes that Amanda to the Rescue will encourage others to find ways to spread kindness in their own communities. "We really do need to turn the tides as a species and start thinking about kindness. Kindness is really cool, kindness is good. We need to start going that way instead of tearing at each other, and destroying things, and pointing out the differences, we need to start pointing out the similarities, pointing out the commonalities, and pointing out what is great about being different. We need to really embrace that, and we need to really turn the tide and just be kind to one another, including animals."
Giese describes a few of the special dogs that she and her family meet this season, including Goldilocks, who has broken bones "from the tip of her nose to the base of her tail"; Splat, who comes into the household as a hospice patient; Jedi, "who has no eyes, but we haven't told him. He sees with his heart — and he sees dang well"; and a Chinese crested named Rogue who joins the family permanently. Where others might see a "damaged dog" without a future, Giese sees an animal with the potential to be someone's best friend. Two of her mantras are "Kindness is cool" and "You can't judge a book by its cover," and she lives by these mottos with the same sincerity, unwavering love and ferocity that she shows her animals.
Amanda to the Rescue, Premiere, Sunday, October 28, 9/8c, Animal Planet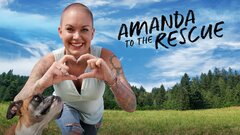 Powered by