'Days of Our Lives': With Paul Gone, Is It (Finally) Time For WilSon to Reignite?
It's always a wonderful moment when two people who long for each other can finally be together. But if we're talking about daytime sudser Days of Our Lives and that couple is Will Horton (Chandler Massey) and Sonny Kiriakis (Freddie Smith), then you know WilSon is going to encounter even more obstacles now.
As we saw earlier this week, that obstacle is the presumed dead Leo (Greg Rikaart), who returned with major blackmail and revenge plans for the gay duo.
First up, nobody was more shocked to see Leo alive than Will and Sonny since they were the ones who (accidentally) killed him after an altercation in the Kiriakis mansion months ago. Sure, Leo had it coming as he'd been hired by Vivian Alamain (Louise Sorel) to romance a vulnerable Sonny and bring him down on bogus sexual harassment charges. Vivian is also presumed dead (viewers know she was revived before truly dying, so she could pop back up at any time) but Leo's return was a surprise.
TV Insider sat down with Massey and Smith earlier this month at the annual Day of Days event to find out as much as they could say about what's next for WilSon. Of course, they made a point of mentioning how much they miss cast mate Christopher Sean, who played Will's former lover Paul Narita up until last week. (For the record, we miss Sean, too!)
Here's what Massey and Smith had to say a few weeks before the return of Leo. (You can also hear an excerpt from this interview – and more with cast members Victoria Konefal, Robert Scott Wilson, Lamon Archey and Sal Stowers – on the latest TV Babble by TVInsider podcast!)
Why do I think that this being Days of Our Lives, getting together will be a challenge for Will and Sonny?
Chandler Massey: You're a smart man!
Freddie Smith: I think they've done a really good job of building this up to "WilSon." But I'm also super pumped that people have become Horita fans, and people were Paulson fans and Wilson fans. That's awesome, you know? I still think WilSon holds the overall umbrella of people rooting for them, but I love the triangle that we've been able to create.
But we know Ted's coming back (Gilles Marini also returned this week), which should complicate things, for you guys.
Smith: Yes [accent] Ted Laurent.
Massey: [mimicking Smith's accent] Ted Laurent!
Smith: We've gotta get Christopher back, we miss him. He's such a good guy.
Massey: He's so amazing.
What were you most proud of this year? As far as your work on Days?
Smith: For me, being able to share the love story of a love triangle with three gay characters has been incredible because soap operas are all about love triangles. And for Sonny having to be that selfless, to give his exes [Will and Paul] the ability to be together was very tough for him. There was a lot of strength and growth that he had to go through.
Massey: The love triangle is fun and the scenes that we had after Will gets his memory back and then he and Sonny meet in Doug's place…
Smith: That was big!
Massey: That sticks out. I really like how those [scenes] turned out. It was great.
You guys are both veterans of the show. Is it easy to cry? Especially when Will came back, you were both so emotional for what seemed like weeks!
Massey: I have naturally watery eyes. [Laughs] We've played these characters for so long, that we know what matters to them. I don't really go in thinking like, "Oh I want to cry in this scene." I think "Oh this matters to Will, because…"
Smith: I think we're so invested in these storylines that it's sad or it's heartbreaking or it's happy, you know? Also, we're in a space where we're comfortable [so] we can take those moments if we start to feel something and follow it.
A lot of people are coming back to Days. Who would you love to see come back?
Massey: Well, Christopher Sean, for one. I feel like the show has been wanting for a true complex villain ever since James Scott left. I liked EJ a lot, in terms of, this flawed genius, I guess. And I think it'd be cool if he came back. I don't know if it'll happen.
Smith: Deimos (Vincent Irizarry) was another good villain. Greg Rikaart was also so much fun to work with.
Can you say anything to what's coming up for Christmas for the guys?
Smith: I'm trying to think of a way to put this. From Thanksgiving through Christmas is just out of this world. [looks to Massey] How fun was all that?
Massey: It was so much fun. It's supposed to be the time where you are with your loved ones, and you get to celebrate and relax but it doesn't happen that way.
Smith: No, it's not a relaxing Christmas. That's a good way to put it.
Is it just escalated drama? Or is it actually danger and really intense things?
Massey & Smith: [together] Both!
Here's an episode highlight featuring Leo's return:
Days of Our Lives, Weekdays, NBC. Check local listings.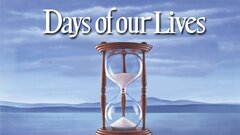 Powered by