What's Next for Cin? 'Days of Our Lives' Stars Robert Scott Wilson & Victoria Konefal Tease 'Slow Burn' (VIDEO)
Looks like we're going to have to exercise some patience before "Cin" (the ship name for Ciara and Ben on NBC's Days of Our Lives) can truly heat up our TV screens.
That's what stars Victoria Konefal (who plays Ciara Brady) and Robert Scott Wilson (Ben Weston) told TV Insider at 2018's "Day of Days" event held at Universal Studios in Burbank. The annual celebration, celebrating the 53rd anniversary of the series, gives diehard fans a chance to interact with the show's stars as well as get a glimpse into what's to come on the popular daytime serial.
Now, back to Cin. As we've seen on the episodes airing this week, Ben finally told Ciara that he has feelings for her but, of course, Ciara is now coupled with Tripp (Lucas Adams). And while she's been known to do a few not-so-good things in the past, cheating on her boyfriend isn't one of them.
So what's next? Konefal and Wilson clued us in a little bit on what to expect moving forward, including the upcoming holiday episodes.
Also, we couldn't help but notice how these two actors have undeniable chemistry together. Watch how much fun they have together when Konefal accidentally hits Wilson in the eye with her hair — too funny! (And is it ironic that there's a fire alarm control sign on the door behind them?)
Watch out for hotness in the interview below!
Days of Our Lives, Weekdays, NBC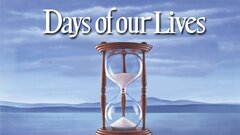 Powered by