'Mystery Science Theater 3000': Joel Hodgson Reflects on 30 Years of the Weirdly Wonderful Series
In 2017, Mystery Science Theater 3000 returned to television thanks to Netflix and a crowdfunding campaign that raised almost $5.8 million. The reboot brought Joel Hodgson back to the weirdly wonderful show he created in 1988, and appeared on until 1993, in which a human stranded in space and his robot companions watch and make fun of really bad movies.
Now, to mark the show's 30th anniversary, six new episodes will hit the streaming service on Thanksgiving, so fans can binge on movies that were turkeys after filling themselves with actual turkey.
But that's not all Hodgson has been up to. This fall, he and new MST3K star Jonah Ray joined forces for a series of live shows around the U.S., and Hodgson has expanded the MST3K brand to a series of comic books that make fun of old comic books.
"It's been the most creative year of my life, probably," says Hodgson. The man Jerry Seinfeld called "one of my favorite cultural visionaries" in an episode of Comedians in Cars Getting Coffee looks back and forward at the show that debuted on a local Minneapolis TV station on Thanksgiving Day 1988.
What is the best part about hitting this milestone?
Joel Hodgson: Meeting the people that are coming in and filling the show again: new writers, new performers, new producers and all that. The most amazing thing for me was just getting to know all these accomplished adults that wanted to come work on it and were, like, 13-year-olds when we were making the [original] show.
Having been away from the show all those years and then coming back, what would you say is the most important thing you learned that you were able to carry over into the new series?
The thing that I'd noticed when I'd gotten into other writing rooms in Hollywood was we always made Mystery Science Theater completely differently, meaning when we write the show, we don't edit it. We won't edit any jokes in the room, we just write as much as possible, then later all those ideas are collaged, so the editing and creating are done at two different times. And I think that's very unique for writing. Most writing is done in this kind of scenario where there's a head writer just sitting there, and it's like, "Keep pitching me ideas. I'm going to bat ideas around and bat 'em away if I don't like them and that's tough if I hurt your feelings." We don't really do that on our show.
You're also involved in a new series of Mystery Science Theater comic books that poke fun at old comic books. Are there other outlets you'd like to expand into?
I'm not sure if we can do much more right now, but I'm very interested in trying Mystery Science Theater in all mediums, and every medium that's available. The comic book is very different than the TV show, yet people say it has the same results, and I'm very interested in that: How do you use the attributes of the medium to amplify what's great about Mystery Science Theater?
Will dropping new episodes on Thanksgiving become an annual tradition?
I would be thrilled if that happened. Because Thanksgiving Day isn't a religious holiday, I'm kind of OK telling people it's OK to watch TV when you're done spending time with your family. It tends to work with the family, 'cause we have really simple, childlike jokes and we have very sophisticated jokes, and there are so many jokes that it doesn't matter if you get it or not 'cause there's another one coming really quickly. So you can have a family watch it and they can all be amused in different ways at the same time.
Do you plan to team up with your original MST3K colleagues again?
We were able to each season bring back people. Season 11 [2017], Mary Jo [Pehl], Bill Corbett and Kevin Murphy came back to the show, along with longtime writer Paul Chaplin. This season J Elvis Weinstein's coming back. We worked really hard to get Trace Beaulieu and Frank Conniff, but it didn't work out. We're still trying to get them involved with the show. We would always want to honor the folks from the past and keep them involved.
It's nice that you can have the old and the new working together.
You should have seen the set when Mary Jo and Kevin and Bill came back. It was electric. Everybody wanted to get their picture taken, everybody wanted to talk to them, and that was really thrilling.
What will you be watching on Thanksgiving?
I'm going to try to have a few friends come and watch the series with my family. I have a feeling it's not going to be on Thanksgiving, though we might take a whack at it. I have a feeling it'll be on Friday or Saturday or Sunday. It's a long weekend, so that's really the perfect time to watch it.
Mystery Science Theater 3000: The Gauntlet, Season 12, Thursday, November 22, Netflix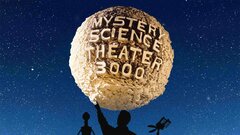 Powered by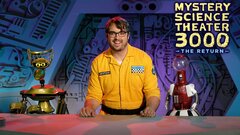 Powered by