The CW 2019 Midseason: 'Jane the Virgin' & 'Black Lightning' Make Moves, 'Roswell' Premieres & More
As the fall TV season nears its end, it's time to start looking forward to midseason premieres and returns and The CW is giving fans plenty to get excited about.
The highly anticipated Roswell reboot Roswell, New Mexico finally has a premiere date — January 15. Meanwhile, Black Lightningwill move to Mondays following Arrow, beginning January 21. The shift will bump DC's Legends of Tomorrow from its former Monday time slot.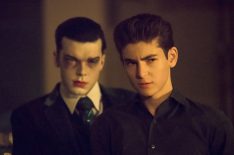 See Also
Plus, 'The Masked Singer,' 'The Passage' and more.
New series In the Dark is scheduled to debut Thursdays once Legacies finishes its 16-episode first-season run. Meanwhile Jane the Virgin will return for its final season on a new night — Wednesdays. No premiere date has been announced fore Jane just yet, but it's sure to come soon.
In the meantime, find The CW's midseason schedule below, filled with returning favorites and exciting debuts.
Friday, January 11
9/8cCrazy Ex-Girlfriend (Midseason Return)
Tuesday, January 15
8/7cThe Flash (Midseason Return)
9/8cRoswell, New Mexico (Series Premiere)
Wednesday, January 16
8/7cRiverdale (Midseason Premiere)
9/8cAll American (Midseason Return)
Thursday, January 17
8/7cSupernatural (Midseason Return)
9/8cRoswell, New Mexico (Encore of Premiere)
Friday, January 18
8/7cDynasty (Midseason Return)
9/8cCrazy Ex-Girlfriend (Original Episode)
Sunday, January 20
8/7cSupergirl (Midseason Return)
9/8cCharmed (Midseason Return)
Monday, January 21
8/7cArrow (Midseason Return)
9/8cBlack Lightning (New Time Period Premiere)
Thursday, January 24
8/7cSupernatural (Original Episode)
9/8cLegacies (Midseason Return)