Fox Orders 'Lethal Weapon' Pilot Starring Damon Wayans, Sr.
Fox has ordered a pilot for an adaptation of Lethal Weapon.
The drama, whose pilot was penned by Forever creator Matt Miller, is based on the film franchise starring Danny Glover and Mel Gibson. Damon Wayans Sr. has signed on to play Roger Murtaugh (whom Glover played in the films).
McG, who worked with Miller on Human Target, will direct the pilot and executive produce the series.
Lethal Weapon will focus on the early days of the partnership between Riggs and Murtaugh. Per Fox:
"When Texas cop and former Navy SEAL Martin Riggs suffers the loss of his wife and baby, he moves to Los Angeles to start anew. There, he gets partnered with LAPD detective Roger Murtaugh (Damon Wayans, Sr.), who, having recently suffered a 'minor' heart attack, must avoid any stress in his life."
The pilot comes from Lin Pictures and Good Session Productions in association with Warner Bros. Television. Dan Lin and Jennifer Gwartz are attached as non-writing executive producers.
Other pilots the network has recently announced it will be moving forward with include an Exorcist "reinvention," a female buddy cop comedy, shows set to star Courteney Cox (Friends) and Nasim Pedrad (Scream Queens), and new series from the teams behind It's Always Sunny in Philadelphia and Vampire Diaries.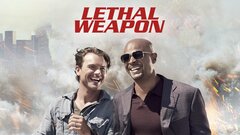 Powered by