'Outlander' Season 4 Premiere: Fan Reaction & Changes From the Book
Sunday night marked the return of Outlander for its highly-anticipated fourth season.
The Starz drama didn't disappoint as it features soul mates Claire (Caitriona Balfe) and Jamie Fraser (Sam Heughan) settling in 18th century North Carolina. Joining them are Fergus (Cesar Domboy), his new wife, Marsali (Lauren Lyle) — who announces she's pregnant — and Young Ian (John Bell) with new bestie Rollo, a wolf-dog.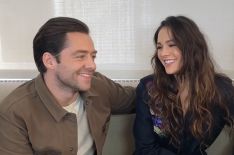 See Also
Are Bree and Roger the next 'Outlander' power couple? Maybe. Are these two actors completely adorable? Definitely.
All agree it's time to build a home and put down some roots, so off they go to visit Jamie's Aunt Jocasta, who owns an estate called River Run. But of course, trouble is never too far away for the Frasers and their extended family.
In the beginning of the premiere, Claire and Jamie help an escaped prisoner, named Stephen Bonnet (Ed Speleers), hide from British soldiers, which is a good deed they'll come to severely regret later on.
Fast forward to the episode's final moments: The Frasers are making their way to River Run and decide to retire for the night. Suddenly, their boat is attacked by Bonnet and group of thugs, looking to rob them — Jamie is beaten and his friend is stabbed.
Bonnet goes after Claire's wedding rings — she wears the gold band given to her by her first and late husband Frank on her left hand, and a metal band from Jamie made from a Lallybroch key on her right hand.
See Also
The cast is expanding as the Frasers settle in America.
Claire attempts to swallow the rings but Bonnet sticks his fingers in her mouth and pries Jamie's free. During this brutal scene, Ray Charles' "America the Beautiful" is playing and it's one of the most haunting moments ever on the series.
What fans who have not read the books may not realize is that this scene had a different outcome in Diana Gabaldon's Drums of Autumn — Bonnet actually takes Frank's gold ring, not Jamie's.
See Also
Author Diana Gabaldon hinted at the possibility.
So why this very important change? EP Ronald D. Moore told fans at the Savannah College of Art and Design Film Festival in Georgia, that they switched the rings because of a future scene involving Brianna (Sophie Skelton). She needs to be able to identify Jamie's unique ring, whereas a plain gold band doesn't stand out.
"The plain gold band wouldn't be noticeable as like, 'Oh that's clearly my mother's ring,' whereas the other one clearly would. So that's kind of why we made that change,'" he explained.
And as book fans also know… Bonnet will change Brianna's life forever.
Meanwhile, fans reacted to the premiere on social media and couldn't hide their love for the series:
3 thoughts on #outlander…
1 – I dig the upgraded theme song.
2 – It's amazing how much they made Scotland look like North Carolina.
3 – I was stupid to think the episode was gonna end all happy like.

— Dani Dudek (@fancypantsLATX) November 5, 2018
Jamie: When my body dies, my soul will still be yours. Nothing is lost, Sassenach, only changed.
Claire: That's the first law of thermodynamics.
Jamie: No, that's faith.

No, that's good writing. 😉@Outlander_STARZ #Outlander⁠ ⁠ #OutlanderPremiere⁠ ⁠ #TheFrasers⁠ ⁠

— BigAppleOutlander (@NYCOutlander) November 5, 2018
ROLLO!!! My new favorite man in #Outlander Sorry @SamHeughan your ears aren't that fuzzy. #OutlanderPremiere

— Jasmine Rockwell (@nolajazz) November 5, 2018
may I just say how beautiful this scene was!? Jamie might not be Ian's father and he might not have had the chance to raise any of his children, but he sure knows how to be a dad 💙 fantastic acting by @SamHeughan & @JohnBell btw 👏👏👏 @Outlander_STARZ #OutlanderPremiere pic.twitter.com/RNfVfM1nsM

— Anna 🏃🏻‍♀️ (@Anna_Kate90) November 5, 2018
What a beautiful #OutlanderPremiere A total roller coaster, a lot of story lines presented, @caitrionambalfe @SamHeughan @JohnBell a gift again, so touching quotes by @Writer_DG 📚 and the 🎶 by @bearmccreary so in line with the narrative #WhatAFirstEpisode 👏👏🏻👏🏼👏🏽👏🏾👏🏿 pic.twitter.com/bfdkJdke7a

— Matt Spring (@NyMataguilera) November 5, 2018
@Outlander_STARZ #OutlanderPremiere Synopsis of America the beautiful 1.decor outstanding 2.acting daaammmmnn 3. Scottish landscapes breathtaking 4.writing excellent, very moving scenes and emotional 5. Stephen Bonnet, devilish & handsome 6. Final scene = Claire crying, me 😭

— Ingrid Koenig (@blueInK76) November 5, 2018
What did you think of the Season 4 premiere? Let us know in the poll below:
Outlander, Sundays, 8/7c, Starz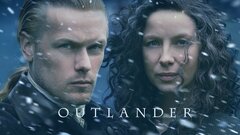 Powered by