'NCIS' Star Diona Reasonover Teases Kasie's Backstory & Reflects on Being the 'New Girl'
All evidence points to one obvious conclusion: New NCIS forensic specialist Kasie Hines (Diona Reasonover, who joined the cast full-time in Season 16) is indispensable.
The brainy oddball has already cracked a code that helped save kidnapped director Leon Vance (Rocky Carroll), fished crucial evidence out of a hot tub that contained a corpse and helped nab a bomber. In the November 20 episode, "We see her out in the field for the first time and find out what scares her," says Reasonover, a funny, friendly Detroit native who shares her character's enthusiastic energy.
See Also
The actress left the series for good on May 8.
"Kasie's fears are my real fears. When I read the script, I was like, 'Wait, what?' We're both afraid of snakes!" The actress gives us a full report.
Was it intimidating to step in as the quirky nerd after the departure of Pauley Perrette, who played forensics specialist Abby Sciuto for 15 years?
Diona Reasonover: It wasn't. The cast and crew were so welcoming. There was never any doubt in my mind that they wanted me there. And Kasie's just a different person. Abby had a wonderful ease; Kasie's a nervous Nellie.
Why so nervous?
We've all been the new girl. You want to do a good job. Sometimes you trip over your words, your feet and everything else. It's perfect for me. My dad used to say, in a loving way, that I was so clumsy I could trip over dust.
What else is coming up for Kasie this season?
We're going to get Kasie's backstory. I'm excited for viewers to learn how she got into this and why and where she comes from.
See Also
She also talks crossover potential, fans, and the new 'glasses crew.'
Did you ever consider a science career instead of acting?
If you'd seen my science grades in school, you'd know the answer! Every time we have a case, I learn new things. I didn't know fingerprints are formed in the womb from touching [their surroundings]. If I do a whole season, that counts as me getting an official [forensics] degree, right?
NCIS, Tuesdays, 8/7c, CBS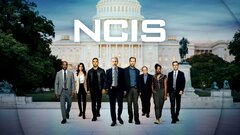 NCIS
where to stream
Powered by