'Arrested Development' Season 5 Will Likely Be Its Last, Says David Cross
There's been a lot of uncertainty surrounding the future of Arrested Development.
The revived series is halfway through its fifth season on Netflix and one of the show's main stars is doubtful it will continue. David Cross, who plays Tobias Funke, revealed on the Late Night with Seth Meyers Podcast, "I've learned to say 'never say never,' but I can't see it happening again, I think for a number of reasons."
Those reasons most likely include the fact that Jeffrey Tambor, who plays patriarch George Bluth, Sr., was recently fired from his role on the Amazon Prime Video series Transparent for inappropriate behavior on set.
In addition, some cast members of AD were called out recently for an interview with The New York Times in which they defended Tambor and his on-set outbursts directed at co-star (and on-screen wife) Jessica Walter.
Cross and Jason Batemen both apologized later for their dismissive remarks.
The next eight all-new episodes of Arrested Development are set to drop in 2019, Cross confirmed. "At the beginning of the new year they'll show the next eight, as I understand it," he said.
The series originally debuted on Fox for three seasons from 2003 to 2006.
Arrested Development, 2019, Netflix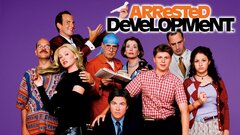 Powered by