'It's Always Sunny in Philadelphia' Re-Created an Iconic 'Seinfeld' Scene (VIDEO)
The gang goes '90s in the most recent It's Always Sunny in Philadelphia episode titled "The Gang Does a Clip Show."
Throughout the half-hour comedy, Dee (Kaitlin Olson), Mac (Rob McElhenney), Charlie (Charlie Day), Frank (Danny DeVito), and Dennis (Glenn Howerton) recall memories from episodes past. But things start to take a turn when memories fade into fantasy realities such as a full head of hair for Frank and eventually a scene straight out of Seinfeld.
For fans of both shows it's a sight to behold as Sunny's characters take on the iconic roles of Jerry, George, Elaine, and Kramer, but they have two Jerrys — Mac and Dennis — plucked from the 1992 episode called "The Contest." The classic episode won writer Larry David an Emmy in 1993 and circles around a bet that the four friends made about who could hold out on pleasuring themselves the longest.
But the context of the episode isn't necessarily needed to observe the fact that Sunny masterfully re-created the scene word for word and frame by frame with their own twist. In the original show Elaine (Julia Louis-Dreyfus) enters Jerry's (Seinfeld) apartment to find him and George (Jason Alexander) ogling out the window at a naked woman in an apartment across the way.
As Elaine works to get the guys' attention, Kramer (Michael Richards) comes bursting through the door to say he's out of the contest. In Sunny, this scene is construed as a "memory" until Dennis pulls them back into reality, "you guys are remembering an episode of Seinfeld," he tells them.
See the comparison for yourself below, because it's always fun seeing one show honor another. After all, imitation is the sincerest form of flattery.
Seinfeld
It's Always Sunny in Philadelphia
It's Always Sunny in Philadelphia, Wednesdays, 10/9c, FXX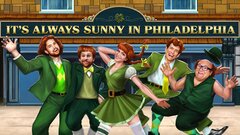 Powered by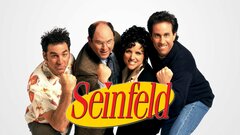 Powered by