'Hawaii Five-0's 200th Episode Is 'Definitely a Departure' Says Alex O'Loughlin
Forget aloha shirts, flip-flops and swimwear. For its landmark 200th episode, the Hawaii Five-0 goes retro with double-breasted suits, vintage gowns and stylish fedoras when an unsolved case transports the gang to 1940s Hawaii… via a dream sequence!
"It's definitely a departure episode," says Alex O'Loughlin, aka Det. Steve McGarrett, who "stumbles upon an old case his grandfather was obsessed with." But McGarrett's ancestor — also named Steve — died at Pearl Harbor before he could fulfill his goal of joining the police force and investigating the mystery.
See Also
The actress left the CBS series over a pay parity dispute.
Present-day McGarrett begins to look into the matter, and when he falls asleep, his subconscious heads into overdrive. He dreams he is his grandfather and tries to crack the cold case — a murder with a young woman's disappearance at the center.
Naturally, O'Loughlin plays both roles, and the similarities go beyond the physical. "All the McGarrett men have the same tenacity," notes executive producer Peter Lenkov, "giving 110 percent in whatever they do." (Although for O'Loughlin, maybe 50 percent would have been better in that heavy woolen suit: "There was a lot of sitting still like a lizard and trying not to sweat too much," he quips.)
As clues pile up in the dream world, so do the familiar faces. "It's like The Wizard of Oz!" jokes Lenkov. Caan (Det. Danny Williams) also plays Milton Davis, a friend who's as loyal to Steve's grandfather as Danny is to the contemporary McGarrett. And Rath (Officer Tani Rey) appears as lounge singer Alexa Alani.
The actress wowed the cast and crew with her performance. "No one knew Meaghan could sing until we approached her with the idea," Lenkov says. Her song selection is top secret, but O'Loughlin seconds Lenkov's assessment: "She's got a crazy good voice." Could an all-musical hour be next?
Hawaii Five-0, Fridays, 9/8c, CBS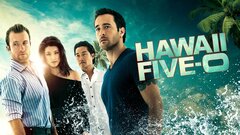 Powered by