'Superstore' Haunts Us With an Insidious Halloween Song (VIDEO)
"Werewolf Bar Mitzvah," you finally have some (bad) company.
Joining the ranks of TV earworms that refuse to leave our heads (yes, The Brady Bunch's "Sunshine Day" holds the top spot) is Superstore's "Halloween Surfboard," a cruelly repetitive novelty ditty from Nathan Holt and Gavin Riley, a Philadelphia-based duo who performed under the name Rowan and Hastings.
See Also
TV celebrates the spook-tacular day.
Filled with lyrics inane enough to drive poor Garrett (Colton Dunn) batty — why is Dracula at the beach?! — the song is in heavy rotation on Superstore's October 25 episode. It's all as part of Cloud 9's seasonal in-store soundtrack loop that plays over the staff's surprisingly topical costume contest.
For those of you who dare, here is the whole song. Just be prepared to be humming it and wondering is "moontan lotion" actually exists.
Superstore, Thursdays, 8/7c, NBC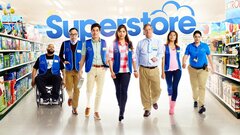 Powered by