Nathan Fillion's 'The Rookie' Debuts to So-So Ratings — Will You Keep Watching? (POLL)
[This post contains mild spoilers from the pilot episode of The Rookie.]
Castle's Nathan Fillion made his big return to TV Tuesday night with his new ABC series, The Rookie .
The cop drama follows John Nolan (Fillion) who is pursuing his life-long dream of becoming a LAPD officer, even though he's older than the average rookie. He's being met with skepticism and ageism, but John is determined to prove his worth.
See Also
'They're going through the fire together,' says creator Alexi Hawley of the rookies. 'I consider them the Three Amigos.'
In the pilot episode, John and his other rookie-level colleagues Jackson West (Titus Makin) and Lucy Chen (Melissa O'Neil) are paired with officers Bishop (Afton Williamson), Lopez (Alyssa Diaz), and Bradford (Eric Winter) and have quite the first day.
They encounter cases of domestic violence, racism, trespassing, and a child left in a hot car. But nothing was as intense as when John finds himself in a guns-drawn standoff with a BOLO (be on the look out), who ends up with a bullet in his leg.
As the day winds down, John gets chewed out by Sergeant Wade Grey (Richard T. Jones) for abandoning Bishop but Captain Anderson (Mercedes Masohn) saves the day with a phone call. He wants offer John a job even though other precincts passed.
Plus, there's a romance going down between John and Lucy.
The Rookie was a highly-anticipated new cop drama due to Fillion's on-screen appeal and lengthy television career. However, the ratings didn't fully reflect that as it landed a 1.0 rating among adults 18-49 and viewership of 5.38 million people.
Still, fans seemed happy to have Fillion back on their screens.
I'm just happy that @NathanFillion is back on tv. #TheRookie

— 1000N (@mylenelapvan) October 17, 2018
Loved your new show. #TheRookie 👮🏻‍♂️. Been missing you on tv, happy to have you back

— ML Gibson (@gibson_ml) October 17, 2018
Watching #TheRookie because of Nathan Fillion. I mean he is gosh darn Nathan Fillion. And hello, Eric Winter! 1×01 is pretty good so yay!!!

— M (@mizzmelai) October 17, 2018
Watched "The Rookie" It is excellent! Thank you @NathanFillion@Mel13Oneil pic.twitter.com/IDehY7phQj

— Jeff Cross (@CopperHead9696) October 17, 2018
Take our poll below to let us know your thoughts:
The Rookie, Tuesdays, 10/9c, ABC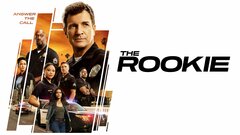 Powered by