'The Rookie': Get to Know Nathan Fillion's John & the Other LAPD Newbies
Backup's on its way! In The Rookie starring Castle's Nathan Fillion, 40-year-old construction worker John Nolan — thrown by divorce and an alarming encounter with some bank robbers — decides to join the Los Angeles Police Department.
Along with two younger guns, he's assigned to the busy (fictional) Mid-Wilshire Station, and "they're going through the fire together," says creator Alexi Hawley. "I consider them the Three Amigos."
Below, meet the newbies.
See Also
This group means business.
The Scion
Jackson West (Titus Makin) comes in full of eagerness and entitlement — no surprise, considering his dad is an Internal Affairs honcho. "Jackson grew up in a police household, gearing up to be a cop his entire life," says Hawley, "so he thinks he's the best prepared rookie in the history of the LAPD." Of course, that's a setup for some rude awakenings, which likely won't please the senior West.
The Reinventor
One boss accuses wise yet green John (Fillion) of risking lives to play out a midlife-crisis fantasy. But John, once a prelaw student, won't let even a "born before disco" joke deter him from helping people in need. Newly single and with his son in college, "John was adrift," says Hawley. "Now he realizes he can bring an empathy to the streets that twentysomethings might not have." If only he were in better shape.…
The Hotshot
Carjackers, beware: Lucy Chen (Melissa O'Neil, Syfy's Dark Matter) can trip 'em, grab 'em and cuff 'em like that. But she's also got some hurdles lying ahead. For one, her training officer, Tim Bradford (Eric Winter), tests her with mean mind games "that keep her off balance," says Hawley. And, don't tell the squad, but she has feelings for one of her fellow rookies. What a relief to know both of her parents are therapists!
The Rookie, Series Premiere, Tuesday, October 16, 10/9c, ABC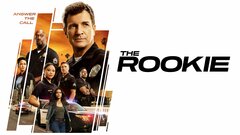 Powered by