Peter Dinklage Teases Tyrion's Possible 'Game of Thrones' Death
Peter Dinklage's character, Tyrion Lannister, drinks and knows things. And Dinklage himself also appears to know lots of things — especially things like how the mega-hit TV franchise, Game of Thrones, ends.
The cast has been extremely tight-lipped about how every character's storyline wraps up (obviously) because the question on every fan's mind is: Who lives and who dies?
In an interview with Vulture, the actor spoke about what's in store for the beloved character, because, in true GoT fashion, it seems no one is actually safe from a beheading or dagger through the heart.
See Also
This character hasn't been seen since Season 6.
When asked about how he felt about where the series left Tyrion, Dinklage said: "I feel very, very — I'm trying to find the right word. I think he was given a very good conclusion. No matter what that is — death can be a great way out."
The author of the article noted this might not necessarily be a spoiler, but rather a possible fate the character may meet. Regardless, it's an end of an iconic era when Thrones returns in 2019.
Dinklage also spoke about his last bittersweet moments on set. "It's always anticlimactic for the character's last day. Nothing is shot chronologically, so you don't get some big mountaintop scene or anything. It's just, 'That's a wrap on Peter Dinklage,'" he said.
"But as anticlimactic as it was, my last day was also beautifully bittersweet. A lot of people whom I love were on set that day. Even if they weren't working, they came to set, which was beautiful. I tried to do the same thing when other [Game of Thrones] actors were wrapping out. If it was their day, you would go to set to say good-bye. It was really hard," the Emmy winner added.
Dinklage also believes Tyrion's journey is a full-circle one. "He certainly developed a deeper sense of responsibility over the course of the show," he said. "[Tyrion] was a pretty irresponsible character to begin with. He used his position as the outcast of his family like an adolescent would."
See Also
'There are so many story lines that have to come to conclusion,' she added.
Now, the character knows "what to do with his intelligence."
Even though the show is ending, don't expect Dinklage to disappear. He's in HBO's TV movie, My Dinner With Hervé, premiering this Saturday, Oct. 20; a voice actor on The Angry Birds Movie 2 and The Croods 2; and in the just announced movie, The Thicket.
"I'm always going to be searching for the next great piece of cinema that I can help create," Dinklage said. "It's all about the good work."
Game of Thrones, Final Season, 2019, HBO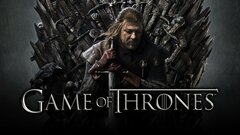 Powered by