Joelle Returns on 'NCIS: Los Angeles' — What Does This Mean for Callen?
In this week's episode of NCIS: Los Angeles, a ghost from Callen's (Chris O'Donnell) past reappeared while the team was protecting a visiting Saudi Arabian prince.
Callen's ex Joelle (Elizabeth Bogush) popped up towards the beginning of the October 14 episode, "The Prince," when the team was investigating threats made towards the visiting royal. After a decoy of the prince was shot, Callen, Hanna (LL Cool J), Kensi (Daniela Ruah), and Deeks (Eric Christian Olsen) got to work trying to figure out who was responsible.
As they followed the leads, they realized their suspected assassin is anything but — he or she hadn't killed the decoy, they used a taser gun. This ultimately led Callen to come face to face with Joelle, finding her at the hotel where the prince was staying.
The former CIA agent's last appearance on the show included her faking her own death with the help of Callen and Hanna, in order to protect her family from threat. She's since been MIA, but upon reappearing in this episode, she revealed a new mission: to protect the prince from a real threat.
Callen's had trouble trusting Joelle throughout their tumultuous relationship, thanks to lies about their true identities and backgrounds. But in this episode, he decided to help her. Thankfully, they came out on top as Joelle managed to identify the real assassin threatening the prince.
But where does this leave Callen and Joelle? Could this be a sign that Bogush's character will stick around in Season 10? Only time will tell!
NCIS: Los Angeles, Sundays, 9/8c, CBS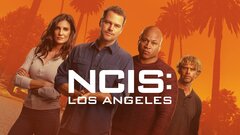 Powered by