Stephen Amell on a Divided 'Arrow' & What Has Him 'Pumped' for Oliver's Prison Stint
Arrow is back for its seventh season and things are clearly not vigilante-business as usual in Star City. Mainly because orange is the new green for Oliver Queen (Stephen Amell), who has be remanded to Slabside Maximum Security Prison for his Green Arrow antics and the rest of the team has been forced to curtail their own heroics in order to avoid further prosecution.
Obviously, something will have to bring the gang back into action, but it won't be Oliver. According to series star Stephen Amell, the hero who has given The CW an entire universe to play around in, has his hands full behind bars and won't be free to fight crime for a while.
Here, Amell explains what's got him so excited about the season's changes and how new blood behind the scenes has sharpened Arrow's edge.
Ok, you are a few episodes into the season, how's it going?
Stephen Amell: Everything's going great. Everything's going great, it's been a very strange, a very unique start to the season for me.
When I spoke with [showrunner] Beth Schwartz this summer at Comic-Con, she pretty much said that Oliver is not getting out of jail quickly.
Yeah, and so no, he doesn't. It's not like a season of 24 where Jack Bauer is put in prison by the Chinese government but then you realize that they're not gonna keep him in China for like nine episodes. [Laughs] He's gonna show up like 20 minutes into the show! So we've really isolated Oliver in prison and it's been a very interesting dynamic because I haven't been interacting with a ton of the cast.
Does it feel like you're on a different show right now?
It totally feels like I'm on a different show. We've seen in the preview that Oliver interacts with both Diggle (David Ramsey) and Felicity (Emily Bett Rickards) in the premiere, but then I go a stretch of episodes [alone]. In fact it was just last week, I worked with one of the regulars and that was the first time in months. It's been really strange, although there are people in prison that Oliver interacts with where there's some familiarity that we haven't yet seen in the previews.
Does being separated from the cast mess with your head at all?
It's strange. I always worry so much about quality control on the show, just in terms of continuity and making sure that stuff's true to character, so when I'm not around, I have a tough time loosening my grip. But at the same time, one of the things that we're doing a little bit differently this year is, we've had either a producer or writer on set for every episode and that has really empowered them to make a lot of unilateral decisions because that is their episode. And that's been very helpful because I spend a lot of time talking with them and it gives me a lot of confidence that when I'm not there, there's not any sort of dip in quality. Not that I'm the one who's solely capable of keeping up the quality of the show. Far from it! It's just it allows me to relax a little bit because I've had several episodes where, because I'm in prison, we'd block my stuff at the top of the episode. I'm on a stage, because it's prison, and then I've been off for like 10 days.
So you're running to Palm Springs every break you get?
[Laughs] We've gone to Hawaii and spent a week in L.A…. I'm mentally preparing for the start of the sort of crossover season and also kind of our prison-centric episode.
OK, you have to be careful how you say this because spoilers and all, so let's just talk about when we come back. Oliver's in jail…
Yeah, we've been five months in prison.
View this post on Instagram
And from everything you've posted on Instagram, it has not been a walk in the park for Oliver.
Well, he's been laying low. And also the name of our season finale was "Life Sentence," so he isn't focusing on getting out on good behavior, but he's passively avoiding conflict and trying to stay out of everybody's way. One of the things I talk with the writers a lot about is that Oliver can break out of prison any time he wants. We've broken into prison, we've broken out of prison, I can't count how many times during the show. [Laughs] So there has to be a reason that he's staying in there and right now, it's the fact that he's done this to keep his friends from being arrested, has the FBI and A.R.G.U.S. looking for Diaz (Kirk Acevedo), and Felicity and William are theoretically safe. But the moment that all three of those things go away, then there's no reason for him to be in there anymore, that wouldn't make sense for the character.
OK, and where is the team at this point?
Felicity is in witness protection. Oliver doesn't know where and Diggle's at A.R.G.U.S. and the rest of the team, they are still in Star City, just not putting hoods and masks on.
So the whole band has broken up.
The whole band is broken up, yeah.
I am assuming that this is gonna have to be, in some way, resolved before the crossover.
[Laughs] That would be a safe assumption, I think. But the one thing that I can tell you is there aren't any breakouts of prison planned, so assuming that Oliver does eventually get out, I'm very, very excited to see how he gets back into society because, again, he's out as the Green Arrow now. People know, everyone knows it. So what does that mean, how is that gonna affect him?
And before all of that, you have all your own story inside of Slabside?
I'm very pumped, I'm very pumped with the work that we've done. I've got a lot of really nice notes from staff that the show feels different, that it looks a lot different. I don't know, there's just something about what we're doing this year. And you could put your thinking cap on and come up with a hundred different ways that the first episode might end and you would never guess it.
Really? Nice.
It's fantastic. I was so pumped when I read it. I think that there's been a lot of new blood in the writer's room and, not to say that things were stale, but it's important to have that happen and I think that a lot of bold moves are being made and a lot of things are being put in the scripts that can never be undone. That's something that I feel like we did a little bit more in our earlier days and then we maybe went a little bit of the safer route in some instances and I've always said if you have a good idea, let's not save it. Another season is promised to nobody. So if you've got a good idea, let's do it.
It's almost like you had to be the safe and responsible show while you were launching all the spinoffs. Now can go back to being risky.
We have no responsibility now! We can just to go and do our own thing and it's been a lot of fun. The only thing is, we've got a lot of new team members on the set and a lot of new cast members that I just haven't had the chance to interact with yet and so it's been very strange and I always like to try and make people feel at home and feel comfortable and see if they need anything. So to have people who are now a part of the family that I've just never seen is strange.
You have so much investment in the show, have you finally decided direct an episode? It's time.
That's a great question. I do have a lot of interest in directing, but I actively do not want to direct Arrow. To that, the answer's no. I really hesitate to say never, but I'm pretty sure never.
Arrow, Season 7 Premiere, Monday, October 15, 8/7c, The CW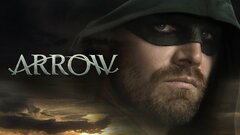 Arrow
where to stream
Powered by