'Outlander' NYCC Panel: EP Teases More Time Traveling & Where's Murtagh?
The Outlander fans at 2018 New York Comic Con's panel event could barely contain their excitement.
The night held many surprises, the first being an appearance by the series' author, Diana Gabaldon, which spurred a standing ovation.
Second was a special early screening of the Season 4 premiere… and it's good, you guys. The crowd cheered when Sam Heughan (Jamie) and Caitriona Balfe (Claire) appeared on screen.
See Also
Who showed up unexpectedly at New York Comic Con's 'Outlander' panel? Find out here!
There was also applause when Rollo was introduced by his new owner, Young Ian (John Bell), and laughs at some well-timed jokes that Gabaldon took credit for as they were pulled straight from the book.
These three were joined onstage by fellow cast members, Richard Rankin (Roger) and Sophie Skelton (Brianna), as well as executive producers Ronald D. Moore and Maril Davis.
Moore teased the season's new location: colonial North Carolina. He said, "[Jamie and Claire] finally decide to have a home, a place to call their own. It's a classic story of immigrants coming to the new world."
Gabaldon added that the characters' relocation is also historically accurate. "A lot of [Scots] went to the New World. A whole lot went up Cape Fear river [in North Carolina] and into the mountains because it looked like home," she explained, adding that "at the time, one of every three colonists was from Scotland."
The panel was short, so there wasn't a lot of time to talk about anything spoiler-y. Skelton wouldn't admit if Brianna does any time traveling and Heughan wouldn't talk about a scene where Jamie and Roger have some conflict.
But when it came time for fan questions, three interesting topics were brought up:
See Also
Plus, cast members from 'Star Wars Resistance,' 'Impractical Jokers,' and 'The Man in the High Castle.'
Moore revealed that yes(!) the season will feature some more time-traveling people. In case you forgot, in the Season 4 trailer Claire discovers a skull with silver fillings… something what wouldn't have been invented for 100 more years.
A fan also asked the cast about the current political climate and how they feel about a TV show depicting frequent sexual assault.
To this, Moore said, "Ultimately, this show is about these characters. We don't choose to look for a platform for political ideas. At the same time, all of us live in this world, this society. We can't help but have what happens in world inform what we do, to be cognizant of what happens in the world. We try to talk about that through the show but not preach to the audience. It can't help but influence our work."
Then, someone in the back yelled — "Where is Murtagh?!" To which the moderator said she wasn't allowed to ask during the panel. Interesting.
The beloved character (who is dead in the books) is quite possibly still alive on the TV show. We last saw him (played by Duncan Lacroix) in jail with Jamie about to depart for the colonies. The highlander was in pretty bad shape health-wise, but hey, you never know who can show up in America.
Outlander, Season 4 Premiere, Sunday, November 4, 8/7c, Starz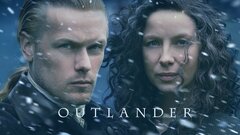 Powered by