Donald Faison & Bobby Moynihan Preview Their 'Star Wars Resistance' Characters (VIDEO)
T-minus one day until the premiere of Star Wars Resistance!
The highly-anticipated animated series arrives on Disney Channel on Sunday, October 7, and to celebrate the launch, stars Bobby Moynihan and Donald Faison stopped by TV Insider's New York Comic Con suite to chat with Damian Holbrook about what makes the show special.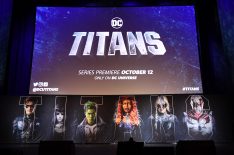 See Also
Bomer has officially joined the DC Universe on 'Doom Patrol.'
Moynihan voices Orka, who works in acquisitions on the refueling station Colossus. "If you need something and you maybe don't want to pay for it completely, you come to us," he teases. Meanwhile, Faison comes to life on-screen as Hype Fazon (hmmm, that name sounds familiar!). Hype runs security on the Colossus and races in his free time.
For the Scrubs alum, a self-described Star Wars superfan, the role was a long time coming. In fact, this wasn't the first time Faison was up for a role in a Star Wars series — he lost out on a big part to someone pretty major..
Check out the video below to find out more about that, and why Moynihan calls the series "Cantina: The Show."
Star Wars Resistance, Sunday, October 7, 10/9c, Disney Channel and DisneyNOW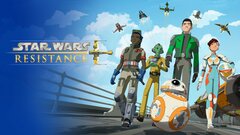 Powered by