'Outlander's New Characters & More Season 4 Teases From PaleyFest NY 2018
The cast of Starz's Outlander was out in full force for PaleyFest New York's opening night Friday, October 5, and they were talking all things Season 4.
Kicking off the evening with some shots of whiskey, Caitriona Balfe, Sam Heughan, Sophie Skelton, Richard Rankin, Ronald D. Moore, and Maril Davis celebrated the show's November return, revealed some tidbits about what fans can expect, and shared some serious laughs with an eager audience.
See Also
Costume designer Terry Dresbach details what changes she made for the new setting.
Among the most noteworthy moments of the evening was talk of Jamie's infamous bear encounter from Diana Gabaldon's Drums of Autumn. Additionally, the audience got to know the show's newest additions, Maria Doyle Kennedy and Ed Speleers. All of that and more below!
Jamie and the Bear
In Gabaldon's book, Jamie reigns supreme against a bear that crosses paths with himself and Claire, and it was heavily hinted fans will have the opportunity to see the scene come to life this season. Heughan let it slip, saying "there may be a bear," in response to Balfe's statement about the amount of time spent filming outdoors. According to the actress, they "shot outside a lot more."
Aunt Jocasta and Stephen Bonnet Arrive
Two of the season's biggest additions are Maria Doyle Kennedy's Aunt Jocasta and Ed Speleers' Stephen Bonnet. As Jamie's aunt, Jocasta is a welcome face in the new world, but it's "difficult for Claire," Balfe said, of being welcomed in by the plantation owner. Balfe's Claire is definitely against the enslavement of others, considering her background and friendship with Joe Abernathy (Wil Johnson) in the future timeline.
She'll be torn due to Jamie's connection with his aunt — Jocasta's the last member of his close family. Meanwhile, things weren't as easy for Ed Speleers as new villain Stephen Bonnet. Considered just as, if not more, sinister than Tobias Menzies' Black Jack Randall, Speleers was the butt of a few on-set shenanigans. "He deserves it," Heughan teased, but he also added, "He's incredible and really went for it" in terms of mastering Stephen Bonnet.
See Also
Plus, Roger and Brianna reunite (and there's some dancing involved).
Rollo the Napper
Season 4 will also see the addition of a four-legged friend: Young Ian's (John Bell) dog Rollo. According to Davis, they began looking for their Rollo long before Season 4 as they intended to train their wolf-like dog. "It's actually John Bell in a suit," Heughan joked, before Davis elaborated that, despite wanting Rollo to be ferocious, he's a pretty reserved animal. "He sleeps all the time," Davis admitted about their furry cast member.
Cast Superlatives
The panel kicked off in a casual manner as the group as the cast played a round of superlatives. And it seems, based on Sam, Caitriona, and Sophie's answers, that Rankin fits the bill for most of them. From ruining a scene by laughing and making a scene partner break to complaining about the cold, the actor took home most of the superlatives. To be fair, Davis interjected that maybe those weren't entirely truthful votes. Either way, it's always fun to see the cast make good, harmless fun of each other.
Frank's Voice
Fans of the show know that Frank Randall departed the earthly realm during Season 3, but his voice being present in the Season 4 trailer has understandably caused a stir. When asked about the significance of that, Davis shut it down giving the rest of the cast a look. It could mean nothing, but we can' t help but feel it means something.
A New World With New Things
One major challenge of Season 4 was transforming Scotland into North Carolina. It was no easy feat, from recruiting indigenous Canadian actors to constructing wooden sets. It was important to Moore that the show "retain [its] Scottish I.D.," and, based on their location, it wasn't that difficult — even if they had to transform Scotland into American grounds.
See Also
Can she save her parents in 18th century America?
"We built a lot more," Moore said, and "costumes were different," Balfe revealed of Claire's American fashion. Another detail they wanted to make sure was included was having true natives play the show's Native American population. "[It was] important that we bring [on] indigenous people," Davis said of the show's authenticity.
What's Next for Jamie, Claire, Brianna, and Roger?
Reiterating what fans know about Jamie and Claire heading into Season 4, the pair will explore domesticity. "He understands what's coming," Heughan said of Jamie's knowledge of American history provided by Claire. "He's trying to fight for the people he loves," the actor concluded of Jamie's Season 4 motivations, while Balfe said fans will "see a side of [Claire] I haven't considered before."
As for Brianna and Roger, things will pick up with Brianna at MIT – she's switched schools – dealing with her mom's absence. "She made herself an orphan," Skelton said. That, and maintaining a long distance relationship with Roger are all ingredients for a dramatic season.
Outlander, Season 4 Premiere, Sunday, November 4, 8/7c, Starz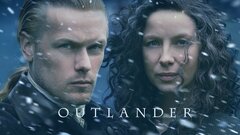 Powered by