Everything We Now Know About Amy Carlson's Character's Death on 'Blue Bloods'
Linda Reagan's (Amy Carlson) death was one of 2017's most shocking TV moments. And in the Season 9 premiere, we got some more answers for what really happened to Carlson's character.
Viewers already knew that Linda, an ER nurse, perished in a fiery helicopter explosion. She was airlifting a patient when the chopper malfunctioned and crashed. Though the tragic incident couldn't have been predicted, her husband, Danny Reagan (Donnie Wahlberg), has blamed himself ever since, as he asked Linda to change her hospital shift when he was working late.
The catch, however, was that this all happened off-screen. Apparently, there was more to the story…
Carlson — who was a part of the cast since the pilot in 2010 — addressed her exit on Instagram at the time. She wrote, "I'm proud of my contribution to building this series."
Her contract was reportedly up after Season 7 and she felt she needed to leave to pursue other opportunities.
Fans were shocked and saddened to lose Linda, who was a tough-but-tender wife and mother. And as with any character's sudden departure, there were still questions that needed answering. Viewers got some clarity on the Friday's premiere.
Danny, in the previous season went after a very dangerous, very well-connected drug cartel, and didn't consider the ramifications of his actions. Now, he's starting to realize why certain things happened in his life.
One of the members of the Mexican mafia, Louis Delgado (Lou Diamond Phillip), hints to Danny, "First your house burns up and then a chopper goes down — that's some pretty bad mojo you carry around," which is as close the criminal will get to admitting to tampering with the helicopter.
And scarily enough, they may still be after the Reagan family.
Blue Bloods, Fridays, 10/9c, CBS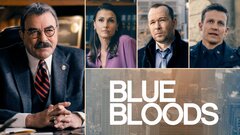 Powered by