Bill Goldberg Says 'Forged in Fire: Knife or Death' Season 2 Will Be 'Bigger, Badder, Faster, Meaner'
When Bill Goldberg signed on for the first season of Forged in Fire: Knife or Death, it was a real introduction into the blade culture. Now the host of History's competition reality series is coming back for the second round more versed in this unique world.
He is once again joined by Special Forces veteran Tu Lam (pictured left in above photo) as they set the stage for the country's most experienced blade smiths, martial artists and knife experts. These participants will slice, stab and chip their way through multiple rounds of grueling obstacle courses for bragging rights and the opportunity to win that $20,000 grand prize. Goldberg promises the second season takes the series to another level.
"We have been able to listen to feedback from these people who are so engrained in the knife world," he said. "We heard what they liked and didn't like. Fortunately, we were able to tailor the show to their liking. It's bigger, badder, faster, meaner, more exciting. The contestants stepped it up. Everything was an upgrade from the previous year.
"Obviously, the first year associated with anything you have growing pains. You live and learn on the run. I think we did quite well the first time out. We had a great jumping off point. The success of Forged in Fire helped greatly and their audience. Everything is bigger and better."
Rather than mess with a proven formula, the overall concept remained the same. However, there have been certain tweaks to enhance the presentation in the WWE Hall of Famer's eyes. Making the show interesting are the competitors themselves who come from all walks of life. Given Goldberg's wife Wanda has experience, would we ever see her on the series if there was a Season 3?
"She'd love to do the show. Are you kidding me? I don't know if I could stop her from doing the show. But as we've seen and will see again this year, there is a certain combination that you need to succeed," he said. "Whether you have to compensate for the blade, or the blade has to compensate for you. There are differences in each person's approach and their outcome based on their physical size, their background, whatever it may be.
"What I'm kind of getting at is I don't know if there is a blade that can compensate for the lack of mass or size or power for a person like my wife who is only about 118 pounds. We saw that someone of that stature is going to have to have one hell of a blade to compensate for their inability to develop power or girth or strength to use the blade to its best ability. Certain body types I don't know if they can really go out and compete at the highest level based on what they bring to the table. If she had a chainsaw, I'd tell her, 'Great, come and do it.'"
Goldberg likens Knife or Death with another competition series he hosted in Bullrun. There aren't cars involved, but there is the hope that the audience is emotionally invested in at least one of the characters.
"You either want them to win or lose. That's all you want is people, resonating with the emotional side to the character," he said. "What I like about this show is that everyone is different. Every blade is different. Every story is different. It takes all kinds to come out and complete. Not one blade and not one person with the background is going to be the end-all that is going to win all of them. There are always variables.
See Also
The 'SmackDown Live' superstar sits down at a 2K media event to bring insight to the changing landscape of WWE and beyond.
"That's what is so cool about what we do. We set up the stage for seven or eight different people with different stories, backgrounds, blades, looks, different ideals. We shoot the starter gun and watch them all go. Visually it's spectacular with these very cool blades and very cool obstacles. Sure, it's about the blade, but I want the viewer to either love or hate the contestant or at least show some type of emotion toward them to want them to win or lose."
The former multi-time world champion certainly built his own connection with pro wrestling fans in WCW and later WWE. Goldberg's meteoric rise in 1997 into 1998 became the talk of the business. Never before had a rookie performer really caught fire so quickly. Audiences tuned in whenever the former Georgia Bulldogs and NFL alum was appearing, especially during his undefeated streak. A streak that came to an end at the hands of Kevin Nash with the help of a Scott Hall cattle prod.
Coming up on the 20-year anniversary of this shocking event, Goldberg looks back at the faithful night. And if Nash wasn't the guy to add the first blemish on his record, then who?
"King Kong. Godzilla. I really don't know," Goldberg said. "I was very, very lucky to be in that position. I was a professional football player. I was new in the wrestling business. I was doing what everyone told me to do, asked me to do. I was lucky to be in that spot. I wasn't a creative guy.
"I'm an athlete. You lead up and have this streak. Then it's okay, who is the guy who is going to be you? I think at the time it was the right guy. I'll be asked that question until the day I die. I'm just lucky to have a streak."
The legendary figure remains grateful for his run, knowing it was a team effort to make the streak successful. He is proud of the streak and its legacy. Even today when a certain sports team does well and wracks up wins, social media has put up a Goldberg gif to get the message across.
"Thanks to Mike Tenay, Bobby Heenan and everybody else that was involved. I think the cool thing about it at the time and that sets it apart is it was organic in a predetermined world," Goldberg. "It was something that I believed the fans kind of yearned for, and we kind of gave it to them."
Goldberg developed a renewed appreciation for his accomplishments in pro wrestling during the last stint with WWE. A big motivating factor why he laced up the boots again was so his son could see him wrestle life. He got to that and then some. Capping it off was the induction into the company's Hall of Fame earlier this year. The whole experience was a thrill for the dedicated dad and husband because he got to take the family on the ride with him.
"Has the itch been scratched for my son? As he is sitting next to me, and I'm taking him to school, I can tell you probably he would love for me to do it again," he said.
"There is a lot of people he needs to say hello to that he got to be good friends with. I'm sure he misses them. But did that fill the void? I think it did. A lot of things go into it. A lot of things are molding my answer. All things considered for the storyline and the timing, I think it went the right way to do it.
"I think he is satiated as I'm helping coach his football team this afternoon. There are other things going on in a 12-year-old's life. Right now, daddy is doing NCIS: Los Angeles, The Goldbergs, Knife or Death. There are so many other things."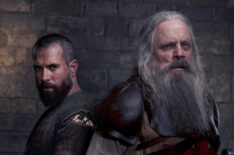 See Also
See the 'Star Wars' actor as initiate master Talus for the first time!
Forged in Fire: Knife or Death, Season 2 premieres Wednesday, October 3, 10/9c, History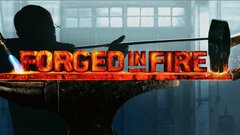 Powered by