Griswold Reunion! Juliette Lewis & Johnny Galecki to Guest Star on 'The Conners' (PHOTO)
A picture really is worth a thousand words when it comes to upcoming Roseanne spinoff series The Conners.
On Tuesday, Juliette Lewis not only confirmed that former Roseanne star Johnny Galecki will reprise his role on The Conners, but she also announced her own guest starring role! And it was all with one photo of the two alongside series star Sara Gilbert.
See Also
Plus, find out the title for the premiere episode.
Galecki's return is exciting for fans of David, Darlene's (Gilbert) ex, who appeared in one episode last year's revival.
Lewis captioned the image, "HERE'S THE BIG NEWS!! Look what I'm doin!!! #LuckyMe #TheConners @theconnersabc #JulietteLewisisonTheConners #whoohoo #GreatWriting #ReunitedWithMyGrizwaldBro 😃@sanctionedjohnnygalecki @sanctionedjohnnygalecki #JohnGoodman #LaurieMetcalf (CAMPING also airs Oct 14th on HBO!!!) #TellYourFriends."
As referenced in the actress' hashtag, this marks a National Lampoon's Christmas Vacation reunion for Galecki and Lewis, who played siblings Rusty and Audrey Griswold respectively in the 1989 Chevy Chase film. So in more ways than one it's a family reunion, and fans definitely won't want to miss it.
And this reveal is sure to give fans hope for some more David and Darlene scenes. Plus, they could continue as Galecki's show The Big Bang Theory will officially wrap after its 12th season. Meanwhile, Lewis will also appear alongside Jennifer Garner in the upcoming HBO comedy Camping.
The Conners, Series Premiere, Tuesday, October 16, 8/7c, ABC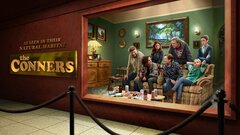 Powered by