'Flip or Flop Atlanta' Experts Ken and Anita Corsini Tease a 'Supersized' Season 2
Georgia's capital city gets even more Southern charm in Season 2 of Flip or Flop Atlanta thanks to husband-and-wife renovation experts Ken and Anita Corsini.
"Our transformations are supersized this year," says Ken. "We take on dilapidated houses, some considered teardowns." Adds Anita, "These aren't lipstick-on-a-pig renos. We gut and rebuild." The makeovers even include a 100-year-old historic landmark.
There's also a deeply personal touch to be found in every final reveal this season: a pair of angel wings to honor families who have fought or are fighting childhood cancer. "This is a cause near to us. Our son [Rocco, 8] is a survivor," Anita says. "Sometimes the wings are big, sometimes small, but always there."
Ahead of the new season, the Corsinis share one of their upcoming designs with TV Guide Magazine.
Before
This eyesore of a kitchen in a 1950s red-brick ranch was tiny. "We thought the house was too small to enlarge this space, but once we drew out the plans, we realized we could," Anita says. Something you can't see in the picture: "It was the smelliest house we ever set foot in!" she adds. They spent $15,000 on the overhaul.
After
White cabinets make the expanded footprint feel even bigger. Plus, knocking down a wall provided direct access to the porch. Anita had to sell Ken on the navy-blue shell-shaped backsplash tiles. "Navy is the new neutral," she says. "It goes with any metal finish and adds a wow factor that feels fun and vibrant."
Flip or Flop, Atlanta, Season Premiere, Thursday, October 11, 9/8c, HGTV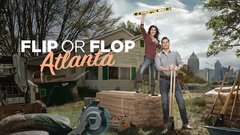 Powered by