Will 'Girls' Really Grow Up? Lena Dunham and Judd Apatow Have the Answers
Four years have passed since HBO's Girls premiered—which is pretty hard to believe, if you pause to consider how the cultural landscape has changed even in that short time. After all, when the comedy was first conceived by then-largely-unknown star Lena Dunham and executive producers Jenni Konner (Undeclared) and Judd Apatow (Knocked Up, The 40-Year-Old Virgin), it seemed intentionally narrow in scope. Season 1 zoomed in on the micro-universe of four unapologetically self-involved millennials—Hannah (Dunham), Marnie (Allison Williams), Jessa (Jemima Kirke) and Shoshanna (Zosia Mamet)—as they attempted to navigate the personal and professional land mines of their early twenties, one pair of shorteralls at a time.
Since then, the Girls world has expanded far beyond that original quartet and the borders of hipster Brooklyn—and its influence has too. The show has been a springboard for countless discussions about hot-button issues like gender equality, body image and sexuality, and, thanks to her frequent nude scenes, Dunham has practically received an honorary spot next to the definition of brave in the dictionary. Of course, becoming the unofficial spokesperson of a generation has also earned her a prime seat at Hollywood's cool kids' table (hi, Taylor Swift!), a multimedia nirvana where supermodels, pop stars and fellow funny gals like Amy Schumer (another Apatow teammate and mentee) can gather to compare notes on fearlessness, squad goals and Instagram feeds.
Now, as the series heads into its fifth and penultimate season, it's grappling with maturity, in every sense of the word. The characters are growing up, and the ride is coming to an end. So while there's still plenty of runway left, we asked the show's virtuosos to give us their exclusive take on the journey so far—and where they're headed next. Plus, how that infamous motorboating scene came to be…
Season 5 opens with Marnie's wedding. Is that a sign that adulthood is afoot?
Lena Dunham: I think we're very conscious this season about pushing the characters toward making adult choices, even if they don't pan out, and seeing what that looks like.
PHOTOS: See Marnie's Wedding Day Photos in the Season 5 Premiere
Will their decision-making improve at all?
Dunham: These are never going to be the people who manage to get through a workday unscathed without coffee on their shirts, but at the same time, we want to see them growing and evolving. Right, Judd?
Judd Apatow: I disagree. I think they're moving backward at a fast pace! [Laughs]
Which adjective best describes these four characters?
Dunham: For Marnie, I'm trying to think of an adjective that means "obsessed with being loved." Needy. For Shoshanna, I would say competent, and Hannah, oblivious. For Jessa, let's go with narcissistic for 100!
Last year, Hannah went away to grad school, and in upcoming episodes, we'll follow Shosh to Japan. Was it always your intention to keep broadening the horizons?
Dunham: Honestly, we kept adding places and characters that we loved and wanted to return to—in the same way that your life naturally opens up as you get older. Like, we didn't know that Jon Glaser's [neighbor] character, Laird, was going to end up being part of the rest of the show when we cast him in Season 2, but it was a very happy accident. Same with Ray [Alex Karpovsky] and the coffee shop.
Why have you decided to make Season 6 your last?
Apatow: Lena wanted to do 10, and I said no! You saw what happened in the 14th season of Law & Order. They had a slow season, then seasons 15 to 28 were good again. We didn't want a situation like that.
Dunham: We've always talked about the fact that we didn't want to stay around too long. We wanted to end it in a thoughtful way. We're lucky that people have stayed engaged, and we don't want to waste that gift.
What's your goal for the finale?
Apatow: We can't give it away!
Dunham: What we can say is that we're excited to end in a place that will hopefully surprise our viewers and make them feel like they've been on a journey and they're not in the same place where they started out. It's funny; we always guard our secrets like we're Lost, even if the storyline is, like, a breakup.
Do you envision a happy ending for Hannah?
Apatow: You are trying to trick us! We refuse to answer these questions.
Dunham: I think that we want to make it like a campsite, where you leave it better than you found it. But I don't know exactly what that means yet.
This show is known for its raw portrayal of sex, like the time last season when Marnie had her tush motorboated by her boyfriend, Desi (Ebon Moss-Bachrach). Does anything make you blush?
Dunham: That made us blush! Let the record show that that scene was actually written as [oral sex from behind], not a motorboating scene—and then the motorboating just happened.
So it was an artistic choice by the actors?
Dunham: Yeah, and I'm not throwing anybody under the bus. When we write sex, I think there's some image of us coming up with hilarious positions and high-fiving, but we want a certain level of plot and emotionality. What was so great about that scene is you knew immediately that Marnie was in a very different place and very different kind of relationship, because she's a very self-conscious person who's suddenly doing that.
Lena, how do you respond to being perpetually labeled brave for your sex scenes?
Dunham: I usually say that what's really brave is to do something that you're scared of, and for me, being naked on camera is not that thing. There's plenty of other stuff; that's just not one of them. But I do feel good every time I get feedback from a young person that the show's been in any way helpful to them.
Girls has become synonymous with a very stylized image of Brooklyn. What's it like to be part of that "brand"?
Dunham: People do seem shocked when they see me in virtually any other place. But although we do use specific humor about what Brooklyn has become—and there's a lot to laugh at—you could take the girls to another city and find the same struggles.
Apatow: Those cities just wouldn't have the same unique facial hair.
Dunham: My dad saw some guy at a grocery store in Williamsburg wearing a pocket watch and got very upset.
What makes the Lena-Judd-Jenni combo work?
Dunham: Right before we shot the pilot, we were doing rewrites in a hotel room. We were ordering tons of junk food and staying up all night, and I remember thinking, "These are the kind of friendships I wanted to have my whole life. I just didn't know they existed."
Apatow: We're like Fleetwood Mac. We've all dated each other. This is my healthiest creative relationship. It's been an incredibly fun, fruitful, drama-free five or six years. I'm trying not to think about the end, because I know I'm going to spiral out into a very dark place.
Does Judd have a better-than-average appreciation for women—and female comedians in particular?
Dunham: He has a real understanding of just people and their complexities. And never, in any way, have I felt marginalized or disputed by him because of being female.
Apatow: I've always liked comedians, and I never really thought about their gender. I didn't realize that there was a difference between Gilda Radner and Bill Murray. I'm interested in what people have to say. When I saw [Dunham's 2010 independent film] Tiny Furniture, I thought, "Oh, this is like some kind of postmodern James L. Brooks movie."
Dunham: That's the nicest thing anyone's ever said to me.
Much of comedy relies on channeling feelings of being an outsider. Is that harder to access once you've achieved success?
Apatow: Well, I have a big stack of scripts and I read them in my golden sauna. No, I was injured enough in childhood to never, ever feel comfortable with myself.
Dunham: Yeah. Once you've been fat in 10th grade, you never go back. It's very easy to think—and I know, because I thought it—that once you've attended an awards show, you know no pain. Unfortunately, that's not quite the vibe.
True or false: Your typical Saturday night is spent cracking jokes with Amy Schumer while Jennifer Lawrence tends bar and Taylor Swift rides around on a unicorn.
Apatow: The unicorn is a rental.
Dunham: Judd could've bought one, but he's cheap, cheap, cheap!
[jwplatform rcMhXNzH]
Girls, Season premiere, Sunday, Feb. 21, 10/9c, HBO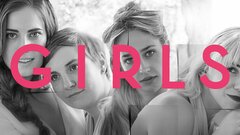 Girls
where to stream
Powered by