The 9 Best Songs on the 'The 100' Soundtracks (VIDEO)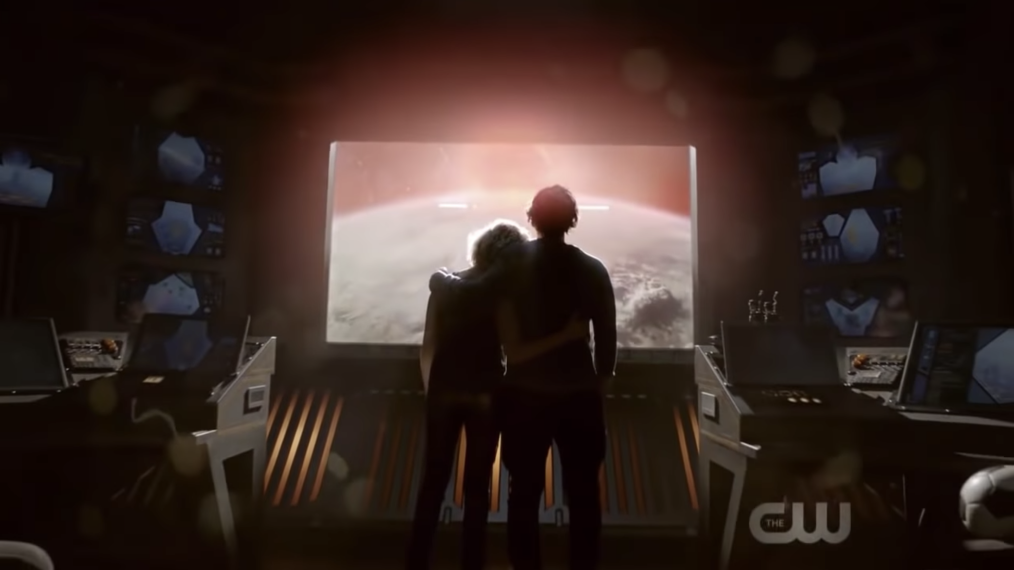 YouTube/The CW
The music on The CW's The 100 is as stunning as the show's scenery, as compelling as its characters and as moving as its many emotional, heartbreaking storylines.
What would Season 3's Polis summit scene be like without the Grounder Anthem? Would Blodreina still be as terrifying without her musical theme? Would Jasper's death be as heartbreaking without the mournful strings in the background? The answer, of course, is no. And fans have composer Tree Adams to thank for completing their favorite moments and giving their favorite relationships elegant music.
In honor of the recent release of the show's Season 5 soundtrack, here are our nine favorite songs from seasons past!
"Blodreina"
Featuring snippets of music from a variety of the younger Blake's scenes, this sweeping track conveys Octavia's downfall and rise to redemption with haunting melodies and pounding drums. You are Wonkru, or you are the enemy of Wonkru…
"I See You"
Remember when Clarke was happy? It only lasted a brief moment, but it was real… and this song perfectly conveys her hope and joy at the end of Season 4 with sweet, singing strings. When Eligius shows up at the end, the tone changes: a cliffhanger fans would need to wait nearly a year to see resolved.
"See You On The Other Side"
"For all its faults, Earth really is beautiful." Though Jasper's storyline was controversial for several reasons, there's no denying the tragic beauty of the music that plays behind his final scene with his best friend, Monty. Complete with the sound of a heartbeat, piano and strings, this is the track to turn on if you need a good cry.
"Clexa Theme"
No matter who you ship Clarke with, there's no denying the gorgeousness of the musical theme attached to her relationship with the former Commander of the Thirteen Clans. The seven-minute song conveys both the brief happiness they found in each other and the tragedy of lost love, and though the show has kept the previous <i>Heda</i>'s memory alive, the music makes it even clearer: Lexa will always be with Clarke.
"Bellarke Theme"
There are three songs on these soundtracks specifically devoted to the dynamic duo of Bellamy and Clarke; Season 3's "Bellarke Theme," Season 4's "Bellamy and Clarke" and Season 5's "Bellamy and Clarke Suite." The complexity of the music displays every shade of their relationship — the trust they have in each other, the pain they've felt at the other person's betrayal, the comfort that comes with reconciliation. Romantic or not, Bellamy and Clarke care deeply for each other and each of these tracks show it.
"Bellamy Poisons Octavia"
In one of the most emotional scenes from the show's fifth season, Bellamy (non-fatally) poisons his little sister in order to prevent her from going to war. Not an easy choice for a devoted big brother to make, and this track shows it. Haunted and resolute in equal measure, it evokes and compliments those fateful words: "My sister, my responsibility."
"Monty's Found a New Planet"
Indeed, he did. An ethereal-sounding chorus and strings unveil the beauty of Monty's stunning and mysterious new world; a planet he and Harper, unfortunately, never got to see. Without this track, the final moments of Season 5 would have felt hollow and tragic, albeit intriguing. With it, they're hopeful and awe-inspiring, and promise an optimistic beginning to "Book Two."
"Kane and Abby"
Though Season 5's "Kabby" theme is quite a bit sadder than in previous years, Kane and Abby have several tracks devoted to their relationship, spanning seasons. While Season 4's theme emphasizes the hope they sought in each other during the final days before Priamfiya, Season 5's three-minute track conveys the struggle Abby endured with her addiction and the ordeal they went through in the bunker. Let's hope for a happy "Kabby" theme in Season 6!
"Take A Life With Me (Grounder Anthem)"
Perhaps the most easily recognizable out of the classical compositions featured on The 100, this song is featured — and was performed — during the summit in which Lexa makes Skaikru part of the Twelve Clans. The track features lyrics in grounder Trigedasleng, and vocals by Julia Dominczak.
The 100, Season 6 Premiere, 2019, The CW