'Station 19′ Season 2 Will Dive Into Firefighters' Pasts Teases EP Stacy McKee
It turns out the heated competition for the captain's post was nothing compared to the raging skyscraper blaze that left the Seattle Station 19's squad in jeopardy in May's finale.
Season 2 of the Grey's Anatomy spinoff immediately reveals what happens — and for those who survive, life won't be the same. "It was a heightened experience for them all," says executive producer Stacy McKee. "We'll be examining how this event altered them."
See Also
'I'd like to see some characters from 'Grey's' date some characters from Station 19,' Ortiz said.
As the squad adjusts, a new chief is selected. Will the ambitious Andy (Jaina Lee Ortiz) land her dream job? We'll also meet a returning firefighter (Boris Kodjoe) and police officer Tanner's (Alberto Frezza) dad (Dermot Mulroney) — and learn more about life away from the firehouse.
"We're diving into their pasts," teases McKee, who promises Grey's crossovers. "We are going to mess with their love lives [and] home lives." Sounds scarier than fighting fires.
Station 19, Season 2 Premiere, Thursday, Oct. 4, 9/8c, ABC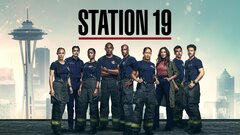 Powered by