Travel Back in Time With 'Young Sheldon' Season 1 DVD (VIDEO)
If you missed the chance to get to know Shelton Cooper as an extraordinarily gifted 10-year-old, now's your chance!
Warner Bros. Home Entertainment released Young Sheldon: The Complete First Season on DVD September 4, 2018 for $39.99 SRP. You can watch all 22 episodes plus all-new bonus features before Season 2 premieres on September 24.
See Also
An up-close and personal look at the CBS show's first season.
"In its debut season, Young Sheldon garnered an average audience of 16.5 million Viewers per week, propelling the Big Bang Theory prequel to one of the Top Five Broadcast Sitcoms across all demographics," according to a press release.
Young Sheldon delves in Sheldon's (Iain Armitage) childhood as he grows up in Texas with his very average parents and siblings. Fans get to see how the future theoretical physicist started his education journey.
Jim Parsons, who plays adult Sheldon on TBBT, narrates his younger self's thoughts.
Check out a supercut video from Season 1 below:
Young Sheldon, Season 2 Premiere, Monday, Sept. 24, 8:30/7:30c, CBS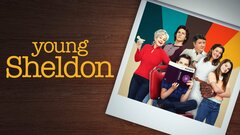 Powered by