'Bachelor in Paradise' Episode 9: Babies on the Beach (RECAP)
[SPOILER ALERT: This recap features spoilers from Season 5, Episode 9 of Bachelor in Paradise.]
Between the three hour episode of Bachelor in Paradise on Monday night and Tuesday morning's Bachelor announcement — it's Colton Underwood — it's been a busy week for Bachelor Nation.
But on Tuesday night's all new episode we not only did we get some answers as to where this season's couples stand, but we also got to catch up with some past cast members and their adorable babies!
See Also
He's single and ready to mingle.
Here's everything you missed on Bachelor in Paradise:
A Real Life Baby
Just like Jade and Tanner! #BachelorInParadise pic.twitter.com/7KnQEuWGnd

— Bachelor in Paradise (@BachParadise) September 5, 2018
Jade, Tanner, Carly, and Evan all returned to paradise with their infant daughters, Emerson and Bella.
After meeting with all the couples, they picked Kendall and Joe for a date… except the date involved building a crib and taking care of both babies. Not what they expected.
Even though Emmy and Bella screamed bloody murder for the majority of the date, Joe kept his patience, and it was actually pretty sweet to see him interact with them. Can we have more babies on this show, please?
See Also
As another couple calls it quits.
More Indecisiveness
Even though Angela was sent home Monday night and Cassandra was semi-interested in Eric solely for the fact that he had a rose to give out, it all wasn't enough for Eric.
Somehow, he ended up in tears on the beach, talking to Kevin. Suddenly, Angela leaving made him realize she's who he really wanted. Funny how that happens, right?
Naturally, this meant that he had to wake Cassandra up from her nap to issue an apology for his behavior, and ultimately, he decided to leave the show.
Chris & Krystal
Interrupting Racoon! #BachelorInParadise pic.twitter.com/6tPCRNWOfg

— Bachelor in Paradise (@BachParadise) September 5, 2018
Chris and Krystal were awarded a date card and Chris was confident this was the right night to drop an L-bomb.
After dinner and champagne, he confessed to Krystal that he's in love with her, and luckily, Krystal felt the same way.
Then, they danced to a live performance from Ben Rector, because of course they did.
Stubborn Shushanna
Russian to conclusions. #BachelorInParadise pic.twitter.com/8fF8VARGRx

— Bachelor in Paradise (@BachParadise) September 5, 2018
We're all struggling with the fact that Annaliese truly thinks she's going to spend the rest of her life with Kamil after, like, three days, but Shushanna is struggling with it even more.
Despite the fact that she was hanging with Jordan from New Zealand, she still could not get over Kamil.
See Also
Do villains still gotta vil after the cameras stop rolling?
Shushanna insisted that persistence was the key, a la Carly and Evan, but no matter how much Kamil tried to convince her that he wasn't into her, she just wasn't hearing it.
But then, Diggy arrived, giving Shushanna another shot at love, which she managed to talk her way out. She told Diggy he'd be wasting his date card on her. Okay?
Diggy & Olivia
We dig the glasses! @diggymoreland #BachelorInParadise pic.twitter.com/y2noEKQQ7Y

— Bachelor in Paradise (@BachParadise) September 5, 2018
Sorry, John — Olivia said yes as soon as Diggy asked her out and their date featured a makeout sesh at the dinner table.
Because this season is winding down, it's going to be hard for new contestants to connections, but at this point, it's looking good for Diggy.
Meanwhile, Back on the beach, Shushanna made a fire and was supposedly doing witchcraft, so there's that.
We'll find out next Monday what happens next!
Bachelor in Paradise, Mondays & Tuesdays, 8/7c, ABC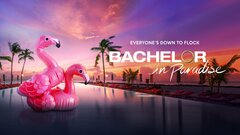 Powered by