'Gotham' Season 5: EP John Stephens Answers Your Burning Questions
The city has been blown to bits and cut off from outside help. As the dust is settling, we asked executive producer John Stephens about the fall of Gotham, the rise of a certain Dark Knight — and what to expect in Season 5.
What is Gotham like post-bombings?
John Stephens: Not good. Inspired by the No Man's Land arc in the comics, Stephens says he sees a "Mad Max–Escape From New York version of Gotham" with isolated neighborhoods co-opted by various villains. Other overlords next season will include infamous DC Comics characters Ventriloquist and Scarface, Lady Shiva and Man-Bat (as teased in the finale).
See Also
Oh, bats! David Mazouz and his pup Starlet spill on the final season of 'Gotham.'
Who runs the town now?
Well, that depends. Barbara (Erin Richards) has turned the Sirens Club into "Rick's from Casablanca," says Stephens. "It's the one place where there's good food and great booze." And no men. Penguin (Robin Lord Taylor) claimed City Hall, where he'll run a Stalinesque base of operations ("It's as if you cross Fifth Avenue and you walk into North Korea," the exec producer says). The evil Jeremiah (Cameron Monaghan) remains in the shadows "like a bogeyman." Firefly, Scarecrow and Mr. Freeze will all have their own hoods too.
Can Jim (Ben McKenzie) and Bruce (David Mazouz) save the day?
"Jim is only going to control one small piece of the city," previews Stephens. "The GCPD is going around and basically retaking every block." Bruce's approach is a little, um, battier. "As he [infiltrates] one villain sector after another, he'll adopt different identities and at one point even take over leadership of a gang, almost like the way Batman did with the Sons of the Batman in The Dark Knight Returns."
Any other comic book nods?
Selina (Camren Bicondova) being shot and paralyzed by Jeremiah will echo Batgirl's condition in The Killing Joke, but Stephens tells us she won't become Oracle. However, he does let slip that a planned love interest for the Joker-ish Jeremiah "may be" the show's long-expected version of Harley Quinn.
For more exclusive content from your favorite shows like Arrow, Supergirl, and more, pick up TV Guide Magazine's Special Comic-Con Issue, on sale now. It's an all-access SUPERFAN guide with 88 pages of behind-the scenes photos, scoops, and interviews .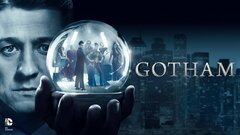 Gotham
where to stream
Powered by