Larry David and Bernie Sanders Finally Meet on 'SNL'
Before their long-awaited introduction, SNL presented Bern Your Enthusiasm, a Bernie Sanders-Curb Your Enthusiasm mashup that gave David a chance to bring his Sanders portrayal to the outside world. Then the two finally came together to trade barbs in a Titanic parody. To celebrate his appearance, Sanders changed his Twitter avatar so that it features David's impersonation of him. PLUS: SNL alum Ben Stiller returned as Derek Zoolander.
Liza Weil, currently starring on How to Get Away with Murder, is expected to reprise her Stars Hollow role in at least two episodes. PLUS: Here's the first photo from the Gilmore Girls set.
Conan O'Brien returned to network TV Saturday night hosting the NFL's annual awards show on CBS. His first joke: "Winning an NFL honor is like winning an NFL Honor — if the Oscars nominated black people."
Ben Carson wouldn't go on stage, and they forgot to announce Donald Trump and John Kasich.
A lot of work goes into pitting Team Ruff vs. Team Fluff.
Looks like Gaffigan has assumed the role from Norm Macdonald, who took over from Darrell Hammond.
Hulu's special teaser includes 10 minutes of Triumph roasting the people at the Democratic debate.
Starting in 1966, Spencer became responsible for NFL Films' memorable and signature soundtrack that accompanied NFL Films clip packages, including the Oakland Raiders theme song The Autumn Wind.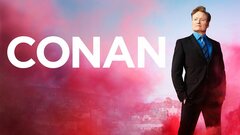 Conan
where to stream