Ask Matt: A Prayer for 'Preacher,' Will CBS Save 'Salvation'? Plus: 'Bull' on the Move
Welcome back to the Q&A with TV critic (also known to some TV fans as their "TV therapist") Matt Roush, who'll address whatever you love, loathe, are confused or frustrated or thrilled by in today's vast TV landscape. One caution: This is a spoiler-free zone, so we won't be addressing upcoming storylines here unless it's already common knowledge. Please send your questions and comments to [email protected] (or use the form at the end of the column) and follow me on Twitter. Look for Ask Matt columns on most Tuesdays and Fridays.
Can Preacher Escape Cancellation Hell?
Question: As we near the end of the third season of AMC's Preacher, I'm interested in your opinion of the series at this point (if you're watching it) and whether you think we'll get a fourth season. I absolutely love this show, but I tend to enjoy shows that are a bit irreverent and offbeat, which Preacher most certainly is. There's simply nothing like it on television. — Carl
Matt Roush: A bit irreverent? After most episodes, I feel a need to go to confession, and I'm not even Catholic! That said, I have appreciated how Preacher basically reinvents itself each season, getting wilder and weirder. It's like slapstick horror some weeks, and I never know where it's going next—or sometimes where it's going as I watch. And how great is Betty Buckley as Gran'ma, maybe her best role since she replaced Glenn Close in Sunset Boulevard on Broadway in the mid-1990s. So to address your question: It's hard for me to tell anymore what's the gauge for success, but AMC has allowed far lower-rated shows (Halt and Catch Fire, TURN: Washington's Spies) to come to a natural end with final seasons, so I'd be surprised if AMC didn't let this play out at least another year, or until the creatives declare it's time to go.
Hoping for More Salvation
Question: I have a lot of network shows I enjoy watching, so much so that I don't subscribe to cable, but of them all I've discovered my favorite series is CBS's Salvation! It is so exciting this season, and I was wondering where it would go after its initial introduction last year, and I am so interested in it, so excited by it, that I'm anxiously awaiting word on whether it will be renewed next season. Any ideas? — Dorothy
Matt Roush: We probably won't know for sure until after the season ends and the network weighs its options for next summer, although a decision could come earlier. (CBS didn't pick up the second season until last October, a month after Salvation went off the air.) Given the nature of the show, if things aren't resolved by the end of this season (doubtful), I'd again be surprised if CBS didn't OK another round, but it's almost impossible to predict such things.
Displaced By the Feds
Question: CBS is showing previews of a "new" fall show, FBI, to be shown on Tuesday nights. This is the night of my absolute favorite prime-time lineup: NCIS, Bull and NCIS: New Orleans!! So what show are they planning to boot to another night to make room for this Quantico ripoff on Tuesdays? — Jan
Matt Roush: Here's the deal: CBS is moving Bull to Mondays at 10/9c (opposite ABC's The Good Doctor, which should be an interesting faceoff between successful franchises). This is pretty much standard operating procedure for CBS, to move an established series to a new night and time after a few seasons to make room for a potential new hit. And for the record, FBI is nothing like Quantico: much less serialized, no training sequences, and few if any confusing flashbacks. A classic procedural from the Dick Wolf playbook, so approach accordingly. But I get the frustration when a familiar flow of programming is disrupted; I'm still annoyed that CBS moved Madam Secretary later into Sunday night, when it was a perfect fit with 60 Minutes. But that's the way they roll.
Producers With Full Plates
Question: Why is Peter Lenkov doing Magnum PI? I'm afraid he is taking on too much. He's already doing Hawaii Five-0 and MacGyver. Hope these shows don't suffer. Hawaii Five-0 is my favorite. Hope it continues. Hope Alex and Scott sign up for Season 9. Your comments? — Eileen
Matt Roush: I will try to refrain from wondering, as critics do, why successful producers like this don't attempt to try something new instead of rehashing old titles year after year with mixed results. But to answer your why question: Lenkov has a solid track record with these reboots, and CBS clearly enjoys the fruits of his and his colleagues' labors, and as we've often observed, nothing succeeds on TV like excess, so why not add another to his plate? And while running three shows is quite a lot, consider someone like Greg Berlanti, whose TV empire now hovers around 14 or more series. Obviously, they can't do it alone, and these executive producers have teams overseeing each show, so it's manageable.
As for the future of Hawaii Five-0: This will be its ninth season, so you're probably speculating about a 10th. I'm thinking if Magnum takes off, that will give CBS the Hawaii-based escapist show they'll need should Five-0 not continue past this season. Honestly, from what I hear from those still watching, it hasn't been the same since the departure of Kono and Chin Ho, so this season might be a good opportunity to lay out an endgame.
Code Gone to Black?
Question: I enjoyed the series 100 Code in WGN America very much. The finale ended with a cliffhanger so I was wondering if there will be a second season. Michael Nyqvist has passed away, so they will have to replace him. — David
Matt Roush: Rule of thumb: I wouldn't get too attached to most shows airing on WGN America. The channel is no longer producing its own series, but acquiring them from other sources, often from abroad. And I'm not aware that any of them, from Bellevue onward, made it past a first season—although the jury may still be out on the currently airing Carter. 100 Code first aired in Germany in 2015 and it seems unlikely any more episodes will ever be produced.
Discounts for Seniors
This relates to the recent question about The Good Fight airing behind a paywall, but not directly. I am also a senior on a limited income, and I am disappointed that you didn't address the issue of senior discounts through AARP and AAA. I have DirecTV and they have given me great incentives to stay. I share several of the other streaming services courtesy of my children including Amazon Prime. Can you address this issue even if you don't see a clear solution on the horizon? — Melinda
Matt Roush: Thanks for your input. I am not aware of these senior discounts, but encourage anyone to research such opportunities through AARP or AAA. I usually hear of young people borrowing their parents' accounts to watch things on HBOGO or other pay services, so am also intrigued that seniors are doing the same with their plugged-in offspring. Why not?
That's all for now. Thanks as always for reading, and remember that I can't do this without your participation, so please keep sending questions and comments about TV to [email protected] or shoot me a line on Twitter (@TVGMMattRoush), and you can also submit questions via the handy form below. Please include a first name in your question.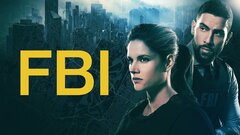 FBI
where to stream