Kristian Bruun Talks Procedural-Comedy 'Carter' & How This Compares to His 'Orphan Black' Role
Not all procedurals have to be depressing whodunits, and WGN America's new series Carter proves just that.
The 10-episode season, starring Jerry O'Connell (Billions) as an actor who returns to his hometown to solve crimes with his childhood pals, just kicked off — so it's not too late to start tuning in! Orphan Black vet Kristian Bruun, who co-stars as Dave, an old friend and townie, assures us that there are "tons of comedy, good friendship and some really quirky murders" ahead. Count us in!
Bruun breaks down the capers to come.
See Also
Check out the trailer for the actor's new WGN America series, premiering August 7.
For those just tuning in, how would you describe the tone of this show? Is it 100 percent comedy?
Bruun: It's definitely still a detective procedural, so it's got all the ups and downs of that, but the banter that goes on between the lead characters has light comedy to it. It offsets the darker, murder-y aspects. It's supposed to be an easy, digestible kind of thing, as opposed to some of the very dark crime shows out there. This is not Law & Order: SVU. It's something you can still watch and have a good laugh over. It's more like Murder, She Wrote meets Magnum P.I.
Tell us about your character, Dave Leigh.
He's a local entrepreneur but he's had a few years where he was on the wrong side of the law. He's a salty dude. He wears a lot of plaid and a lot of Canadian tuxedos, a lot of denim on denim. He's like a local Northerner.
He's childhood friends with Harley Carter (O'Connell) and Sam, who's played by Sydney Tamiia Poitier. They were all young crime solvers as kids and then they all split off around university time. And Dave was a drug addict for a bit and on the wrong side of the law. He knows all the characters in town and has come onto the wrong side of Sam, who is now a detective. So, their friendship at the beginning of the show is very strange. He runs a local coffee truck that he drives around, but he gets pulled back into the world by his friends. I think his advantage that he brings to the group in terms of solving mysteries is that he knows how criminals think; he knows a lot of the criminals in town; he's got a past, and that past comes in handy every once in a while.
So Carter returns and brings these pals together again? Why did they fall apart in the first place?
Dave didn't make too much of an effort to keep in touch. He didn't want his friends to see him [as a drug addict]. Also, Harley went after Hollywood, created this show based off of his childhood solving crimes with his friends, but the character that Harley created that was basically him, but like a really dumb version of him. That didn't help their friendship too much.
What's the relationship like between Dave and Carter now?
[Dave is] angry and bitter at him, that's for sure. He doesn't have much time for him, unless he can get something out of him. Like in the first episode [you'll see], he's hitting him up for money. But at the same time, he misses his best friends.
Being a Canada native, was there anything in the show that you personally related to?
I really love going on canoe trips in Northern Ontario. It's something I've done as an adult, and something I've done a bit when I was a kid. You go like, five days, and just paddle into the lakes and carry your canoe between the lakes, which is called portaging. It's basically camping but it's a pretty hardcore version of camping. It's one of the best resets you can get. You're basically away from cell reception for five days. Getting to film the show for three months in exactly the area where I would go on canoe trips, it's a pretty good way to spend a summer shooting a TV show. So I could relate to what it's like to live in that town. Honestly, when we were filming on the lake, it's one of the most beautiful locations I've ever filmed at.
So, the beard. Was that a first-time? Or do you normally rock wilderness beards in public?
I actually used to grow a beard in between seasons of Orphan Black for the winter.
See Also
James Franco, Lisa Kudrow and Tatiana Maslany are a few actors who will have you seeing double on the small screen.
Right, to hibernate.
Yeah, exactly. In the off-season when I was hibernating it would keep me warm…. [Laughs]. It's funny because, we finished Orphan Black a year last March and I'd just moved to Los Angeles and I was officially unemployed, which is always a wonderful and scary time. And there was another wonderful show in Canada I was on called Murdoch Mysteries, which was like an old-timey cop show and I was very clean-shaven for that too. And so, I'd been killed off of that show as well so that was the end of six seasons on that show and five seasons on Orphan. So, I moved to LA and was like, 'Wow I'm very unemployed now. I'm just going to grow an unemployment beard and enjoy not having to be clean-shaven for awhile.' And literally, that was the state I was in when I auditioned for Carter a few months later. I was looking pretty shaggy.
I saw it was calling for an ex-football playing drug addict kind of character and I started thinking, 'Oh my god, I'm never going to get this.' So I just went for it, and lo and behold I ended up getting it! It was a real surprise. But I really like the beard. It helps me get locked in the character. It's a mask, in a sense.
How does Dave compare to your other former non-law abiding character, Donnie Hendrix from Orphan Black?
They both like to get into trouble! It's funny, Donnie was such a suburban guy. He was such a dad. I often joked that they stole my stepfather's clothes to bring them to set for me to wear. These are two characters I don't normally dress like in real life. I like the idea of being able to explore these characters through what they wear, how they act. They're both comedically-inclined characters for me to play, but they lead such different lives that sometimes it's hard to see the similarities besides me being the person playing them. That's what I like about this job, is I get to change up the characters that I play.
Dave's got a little bit more of a temper compared to Donnie. In that relationship, I think it was Alison [Tatiana Maslany] who was the one who ran hot. But I think he's very likeable. His intentions are good. He's not a scary, biker dude. He's a loveable guy who has a big heart and doesn't quite know how to express himself. I think that's actually something they have in common.
Carter, Tuesdays, 10/9c, WGN America.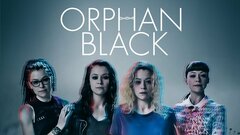 Powered by