Why 'The Simpsons' Creator Matt Groening Wanted 'Disenchantment' on Netflix (VIDEO)
As The Simpsons continues to shatter TV milestones — the animated comedy surpassed Gunsmoke's record of most episodes of a prime-time scripted series earlier this year — creator Matt Groening is gearing up to premiere his latest creation, Disenchantment.
The Netflix series follows a rough-around-the-edges royal, Princess Bean (voiced by Broad City's Abbi Jacobson), and her two sidekicks, Elfo (Nat Faxon) and Luci (Eric Andre). The trio encounter a wild array of characters and problems throughout the kingdom.
Groening is quick to note that, in addition to lending her voice, Jacobson was integral in shaping the character of Princess Bean. "We thought we knew what we were doing with Bean," he says. "She came to the part and added a whole level of feminism that we didn't even dream of."
The creator also chats about which Futurama voice cast members were tapped for the series, why he wanted this show on Netflix and more. Check out the full interview below.
Disenchantment, Premieres, Friday, August 17, Netflix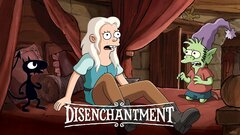 Powered by