'Anne With An E' Star Amybeth McNulty on Anne's Feminism, Her Relationship With Gilbert & Season 3 Hopes
Netflix's version of Anne Shirley-Cuthbert might not be torn verbatim from the pages of the classic books, but she certainly has all the wit, charm and determination of the original.
Throughout Anne With an E's second season, Anne faces challenge after challenge: boarders who attempt to scam her family, dyeing her hair green and facing her classmates with a pixie cut, keeping her favorite teacher from being fired, and more. Her problems are increasingly infused with modern undertones, and the plucky heroine faces it all with a can-do, feminist attitude. Her enthusiasm is often contagious.
Actress Amybeth McNulty talked with us about her favorite moments from Season 2, the blossoming relationship between Anne and Gilbert Blythe (Lucas Jade Zumann), and where she hopes to see Anne Shirley-Cuthbert's story go in a potential Season 3.
I know that you have read the Anne of Green Gables books. How do you feel your version of Anne compares to the version from the source material?
Amybeth McNulty: There are a couple of unique differences. I think for our production, we definitely read between the lines and go in-depth more into her past and the trauma that she experienced, so I definitely really think that that puts her in somewhat of a new light. And it gives her, I guess, more meaning somehow. It just shows how strong she is because of what she's been through.
Yeah, for sure. And I also wanted to say those scenes, especially those flashbacks, are so, so impactful. The way you play them, you play them so well — they're heartbreaking.
Thank you! Yeah, no, they're heartbreaking to perform as well. I mean, it definitely puts me into her shoes. It's pretty rough stuff, yes.
Extremely rough stuff. Going off of that, with those flashbacks and the backstory, how was it to play those scenes? Was it challenging or difficult?
Absolutely. I mean, as an actor, you know that you may have to perform scenes that might be a challenge for you, and obviously you like to overcome those obstacles, and they're a really good challenge to put yourself towards. But of course, they can be difficult. You know, we're filming them for hours, even if it's just a two-minute scene. And the pain that she goes through really gets to me. And it's one of those things where I have to go home and I do have to take a couple hours even, just to decompress from it all because it's very high emotion. So it takes me a long time to calm down from all that.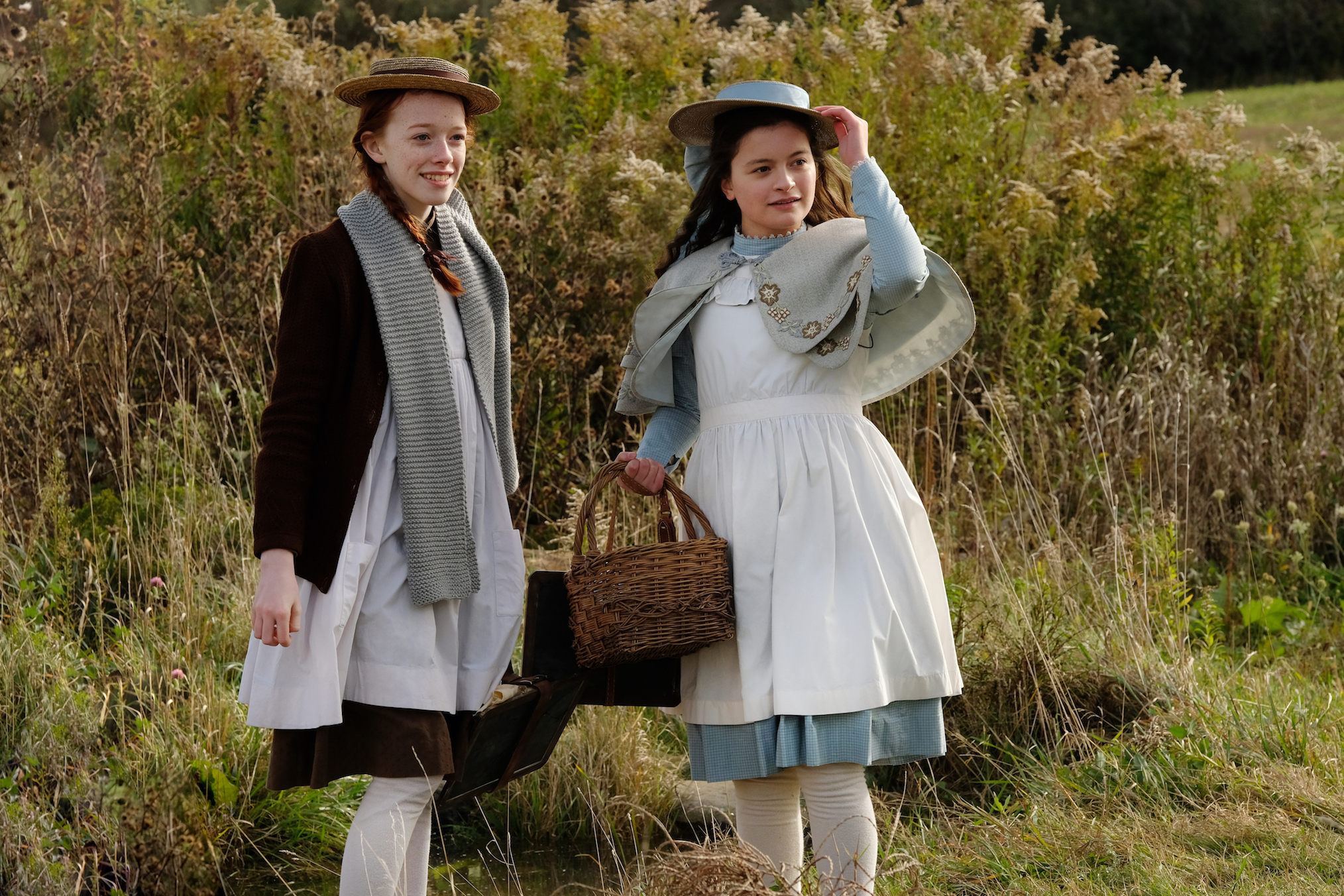 But on a lighter note, we see Anne make a new friend this season in Cole (Cory Gruter-Andrew). Can you talk a little bit about their dynamic?
I absolutely adore the character of Cole, he definitely brought a new dynamic, as you mentioned, to our story that I think was really necessary to bring to light. I'm glad that we have representation for people, coming from his character — I think that's really important — and I think that Anne learned so much from him and what he talks about with her. She got to put herself in other people's shoes and their circumstances, which I think really helped her mature in herself. So I mean, they're kindred spirits, absolutely. And I think that's going to be a never-ending friendship.
Although it was sad to see him leave Avonlea at the end of the season…
Yeah, of course. I guess we'll see, if there are future seasons, perhaps that will hold. I don't know if they will see each other again, but whether it's in letters or in-person, I know that they're never going to lose one another, and it's nice to have that friendly companion to always return to.
Absolutely. And also — Anne's dynamic with Gilbert in Season 2 was very, very interesting, especially when he comes back. How do you interpret things from her side? Does she have feelings for him? Cole said he thought Gilbert had a crush on her, and she kind of pushed that away…
It's interesting. She's still a kid, she's only 14, and I think Gilbert is a little bit older so he definitely understands, perhaps, his emotions a little more than Anne might. I don't know that she interprets those feelings as quite what they are? I mean for her, Gilbert is such a beautiful person because he sees her as beautiful and smart and independent and not just the orphan who came to live with the Cuthberts. And I think it may take time for Anne to realize what that means. But there's definitely something there for her that she can't quite explain yet, and there's definitely something kind of twinging in her heart. So I guess we'll see what the future holds!
The very last scene of the season, where Anne says she wants to be a teacher and Gilbert says he wants to be a doctor, how do you see those dreams playing out for them in a potential third season?
I think it's going to be very interesting to see, because I mean, they're going down similar but at the same time very different paths. But I think it's really interesting to see, perhaps, how that may play out and how they may come back to one another. Maybe Gilbert or Anne will have to go away to college or something to get the training that they need for their careers. But I'm still interested to see a little bit of the competitiveness there, but the hopefulness for each other to achieve what they set out to do.
Can you talk a little bit about the modern relevance of the show? It addresses so many current topics, like feminism, racism, LGBTQ+ rights…
I think it's very interesting from our show because it is set in the 1800s, and I think it's really interesting to see these relevant topics and conversations brought into that time. Seeing how far we've come but also how far we still have to go with it, and the representation on television… we're getting there. It's slow, but surely we will achieve that.
I love the stories that we brought into our show this season. I'm very passionate for them, I'm definitely an ally for all the discussions that we talked about. I think it's awesome that I get to play a character who I agree with everything she says and I feel exactly the same way. And those new characters brought such an interesting dynamic as well, which was definitely necessary. It felt like something was kind of missing and they sewed those spots so well.
We spoke with Cory Gruter-Andrew who plays Cole, and we had a very interesting discussion about how people saw themselves in him. I was wondering — what are some ways you feel girls today might be inspired by Anne's story?
Oh gosh, there are so many ways. I mean, I myself, as a teenage girl in the 21st century, definitely feel represented by her in so many ways. Her 'accidental feminism' is just there. And she's so open with her views on things, but she's not forceful with them. It's just how she feels, and she wants to tell people and she wants to talk about it and discuss it, which I think is so awesome. But she's an incredible role model for not just girls, but humans, in general. And to just be a kind human is something that maybe not everyone does, and I think it's something maybe we all need to take action in, which is just plain and simple human rights.
Which scene in Season 2 was the most fun for you to shoot?
There's so many! Gosh. The beach scenes, and the swimming in the Atlantic Ocean in October was definitely a struggle — it was very, very cold for a couple of hours — but I mean honestly, that might have actually been the funnest one to shoot, I guess. Just because paddling around in the Atlantic Ocean for a couple of hours, we were just having fun. We weren't even acting. We were having a great time.
And when Anne initially walks into school with the wig and she sees Gilbert again, that was really fun to shoot. And you don't see it, but when we go and switch the camera angle to Anne's point of view of seeing Gilbert, I just got to be on the little camera dolly, and I just got to sit on that and look at Lucas, past the camera, sitting on a dolly. So that was honestly great fun! I learned so much about the camera that day, it was really great!
What would you say was the most challenging scene for you to shoot?
I would say the green hair dye scene, for sure. Simply because I got home the night before, we just had 12-13 hours of shooting, got home, was watching TV, and I didn't realize that that scene was being shot tomorrow. For some reason it kind of skipped in my brain, and I just remember opening my script to learn my lines for the next day and there's page after page after page. So that was a really tough day for me because there was a lot of dialogue, there was a lot of crying, a lot of actions to remember. And we were shooting it for a couple of hours, so it was really draining for me. But I had Geraldine [James, who plays Marilla Cuthbert] and obviously, the crew, right by my side and helping me along the way. In the end, I think it's probably my favorite scene of the whole series! I was quite happy with how it turned out.
In a potential Season 3, where would you hope to see Anne's story go?
There are so many directions I feel like we could take it now, and there are so many different places I want to explore with her as she grows up. I'm interested to see her more in her teenage years, I guess, like 15 or 16. It's where I am now, I'm 16, so I think that would be really cool to see. Obviously I would love to see her and Gilbert and what happens there, and her career as a teacher. I can't wait to see what she's like with kids, and how she teaches them. Assuming it'll be very similar to Miss Stacy, but you know, she'll put her own spin on it. And I just know that she's going to adore it. So that's going to be really really interesting for me to play, and I'm very excited.
Anne With an "E", Season 2, Streaming Now, Netflix
Powered by