'Simpsons' Creator Matt Groening's 'Disenchantment' & More Netflix Originals to Check Out
Disenchantment
Series Premiere Friday, Aug. 17
Simpsons creator Matt Groening invites you into Dreamland, where some wonderfully weird characters star in his new animated series. There's Princess Bean (Broad City's Abbi Jacobson), who enjoys boozing a bit too much — perhaps one reason the kingdom is falling apart? — and her rather offbeat friends: an innocent elf named Elfo (Nat Faxon) and the demon Luci (comedian Eric Andre).
All About The Washingtons
Series Premiere Friday, Aug. 10
Whose house? Rev Run's house! The former Run-DMC rapper (real name: Joseph Simmons) and his wife Justine star as Joey and Justine Washington in this semi-autobiographical family comedy. After the fictional Joey retires from rapping, he has to adjust to life as a stay-at-home dad to their four kids (Kiana Ledé, Leah Rose Randall, Maceo Smedley and Nathan Anderson), while Justine works on building her own career. The series is the brainchild of Jeremy Bronson, who created last year's underrated and much-missed The Mayor.
The Package
Movie Premiere Friday, Aug. 10
Well, here's a spring break getaway that turns out to be a cut above the rest. Friends go on a camping trip that won't likely be forgotten in this wildly raunchy teen comedy coproduced by Ben Stiller and starring Daniel Doheny, Geraldine Viswanathan, Luke Spencer Roberts and Supernatural's Alexander Calvert. The pals' typical good-time excursion starts out great, complete with potential new romances, but things quickly go south. How south do they go? Let's just say that, uh, a "member" of the gang ends up on the chopping block when one of the guys unwisely mixes too many drinks with a very sharp knife. Ouch!
Insatiable
Series Premiere Friday, Aug. 10
Sing It!'s Debby Ryan heads up this dark comedy as Patty, an overweight high schooler who suddenly gets the chance to reinvent herself — and then starts taking sweet revenge on every former bully who has wronged her. It all begins when poor Patty gets punched in the face (by a grown man!) and needs her jaw wired shut to facilitate her recovery.
Patty later makes a startling return to school many pounds lighter — and that's just the first of numerous changes that are about to totally throw her classmates' established social order into disarray. With the help of a lawyer turned beauty pageant coach (Dallas Roberts), Patty is seriously ready to turn the tables on all the mean girls and boys who made her life miserable over the last few years. Alyssa Milano and Community's Irene Choi costar.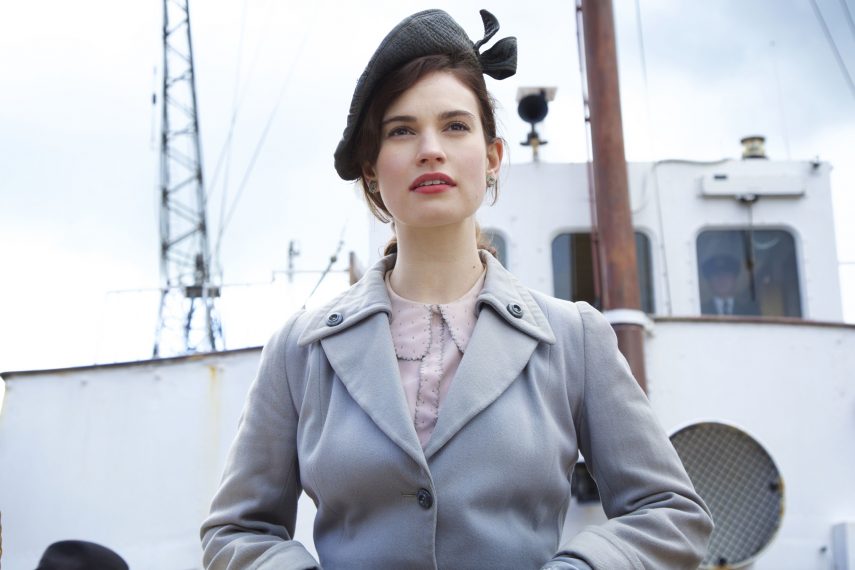 The Guernsey Literary and Potato Peel Pie Society
Movie Premiere Friday, Aug. 10
In this film adapted from the 2008 novel, Juliet Ashton (Downton Abbey's Lily James), a London-based writer who lost her family in World War II, takes on a new writing project — one that will inevitably alter the plot of her own life. Juliet ventures to Guernsey, an island in the English Channel, in the war's aftermath to unravel a mystery: While Guernsey was occupied by German forces, an underground resistance — in the form of a book club — began, led by the courageous firebrand Elizabeth (fellow Downton alum Jessica Brown Findlay).
But Elizabeth has disappeared, and no one will reveal what happened. "Elizabeth has a dangerous amount of courage," notes director Mike Newell. "She has an exact sense of justice. She's too brave for her own good."
Juliet aims to uncover Elizabeth's story, but first she's surprised to discover an unexpected (and growing) spark with a local pig farmer (Michiel Huisman) and a deep connection with the community. "Juliet wants to find something to write that expresses herself," Newell says. "When she finds this group of people, she finds another family. It's a bit of magic."
To All The boys I've Loved Before
Movie Premiere Friday, Aug. 17
She's got males — and a whole post office's worth of embarrassment. High school student Lara Jean Song Covey (Lana Condor) is simply trying to work through her feelings when she begins writing letters to each of the five boys she's had a crush on over her relatively short life. Seems mature and healthy, right? Not so much when, in this story based on the 2014 YA novel, the love letters get sent without Lara Jean's stamp of approval. Now, each of the fellas knows how she feels. How to recover from this world-ending nightmare? Well, maybe one of the recipients will become a love match in this charming rom-com.
More Movies Based on Bestsellers
Available Now on Netflix
Lion
Separated from his mother as a child and raised by an Australian couple, an Indian man (Dev Patel) goes in search of his missing past.
Atonement
Can we ever make amends for causing irreparable harm? That's the heart-wrenching question in Ian McEwan's novel, here starring James McAvoy and Keira Knightley.
To Kill a Mockingbird
Gregory Peck is upstanding lawyer Atticus Finch, defending an innocent black man, in the 1962 adaptation of Harper Lee's American classic.
Howards End
A family of conservative industrialists, a poor insurance clerk and two idealistic sisters cross paths in Edwardian England — but can they connect? Emma Thompson is wonderful in this movie based on E.M. Forster's novel.
Gone Baby Gone
An investigator (Casey Affleck) hunts for a missing girl and gets pulled into a sea of corruption and deceit in this film based on Dennis Lehane's gripping mystery.