Everything We Know About 'Game of Thrones' Season 8 So Far
It's been a long wait for the final season of HBO's Game of Thrones, but it's nearly over as the show returns for its final chapter this spring.
What will become of Jon Snow (Kit Harington), Daenerys (Emilia Clarke), Cersei (Lena Headey), Arya (Maisie Williams), Sansa (Sophie Turner), Tyrion (Peter Dinklage), and more? Fans will soon know, but until then find everything you need to know ahead of the Season 8 premiere below.
See Also
We're highlighting eight brief but important moments from the new Season 8 trailer.
Premiere Date
It took some time to learn the exact date for Thrones' return, but HBO finally revealed that the show would begin its long goodbye Sunday, April 14 at 9/8c. The return comes nearly two years after the prior season's premiere, which aired in July 2017.
Episode Length and Count
Season 8 will be comprised of six episodes — one less than the seventh season. HBO officially released the length and dates of each episode for the final stretch. The length of the first two episodes will be 54 minutes and 58 minutes, respectively. The third episode will clock in at an hour and 22 minutes, the fourth at one hour and 18 minutes, and the fifth and sixth at an hour and 20 minutes each.
See Also
Get a glimpse of new costumes and more.
Trailer
The final trailer was released on Tuesday, March 5, and includes nearly two full minutes of non-stop action. Check it out here:
Poster
The show's Twitter page shared the season's official key art poster on March 21 and its design is sure to raise questions. The photo at first glance appears to be the iron throne, but upon further inspection it looks to be meshes with one of Daenerys' dragons. Could it be hinting at who will take the throne in the end? Let the theories begin.
Script Reaction
Back in July 2018, HBO's President of Programming Casey Bloys shared some insight on the super-secretive scripts for Season 8 with EW. "I think it's epic. I think fans are going to love it. I think it's a fitting way for one of the greatest shows in the history of television to go out and that people are going to be very happy. There's going to be a lot of conversation."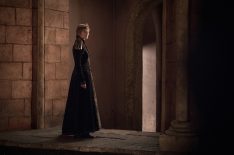 See Also
Hate her, love her or grudgingly tolerate her — the fact remains that Cersei Lannister deserves respect.
Finale
The finale will officially air Sunday, May 19 at 9/8c on HBO. The episode will be an hour and 20 minutes long.
Game of Thrones, Season 8 Premiere, Sunday, April 14, 9/8c, HBO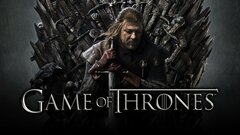 Powered by